As 2018 draws to a close we're bringing you our annual review of the year…well within our house and online at least.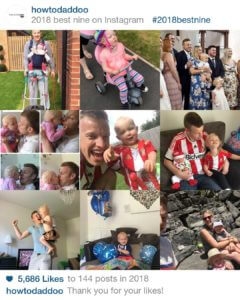 The Boy
Daniel has continued to grow this year and is getting to that brilliant stage where his little personality is coming out. We held his Christening this year which was a brilliant day. His schedule is full everyday thanks to Grandma taking him to a different playgroup each day of the week!
The Girl
Ayla took the massive step this year of joining what we have now coined 'big girl nursery.' We recently took in her first proper nativity which filled us with such pride. I'll be posting more on that soon…
The Wife
Rachel returned to work following a years maternity leave. She continues to take massive changes in her stride and makes the impossible seem possible running our household.
The Blog
New Users – 3,773
Page Views – 6,595
Pages/Sessions: 1.38
Returning Visitors: 7.4
25-34 Female remains our key demographic. The housewives favourite!
 Top Posts
Celebrities Daniel Begins to Look Like – You guys seemed genuinely interested in celebrities Daniel tends to morph into at 4am when you're so sleep deprived you start to hallucinate.
Carseats and Seatbelts – Now if you came across this post wondering how to approach your year you may want to skip the 50mph car crash with all the family in the car. The whole insurance wrangling with this is still rumbling on. 
Milk Boss Review – It's great to be a trusted resource reviewing products for brands and a fair few of you took the time to check out our thoughts on Itsy Ritzy's Milk Boss feeding pillow. (Brands – Get in touch! *wink, wink*)