TOP TIP: Always lift your arms when going down inflatable slides.
We love a day out at the soft play. So you can imagine our excitement when we were invited down to inflatable themepark, Inflata Nation Newcastle. Here's our review…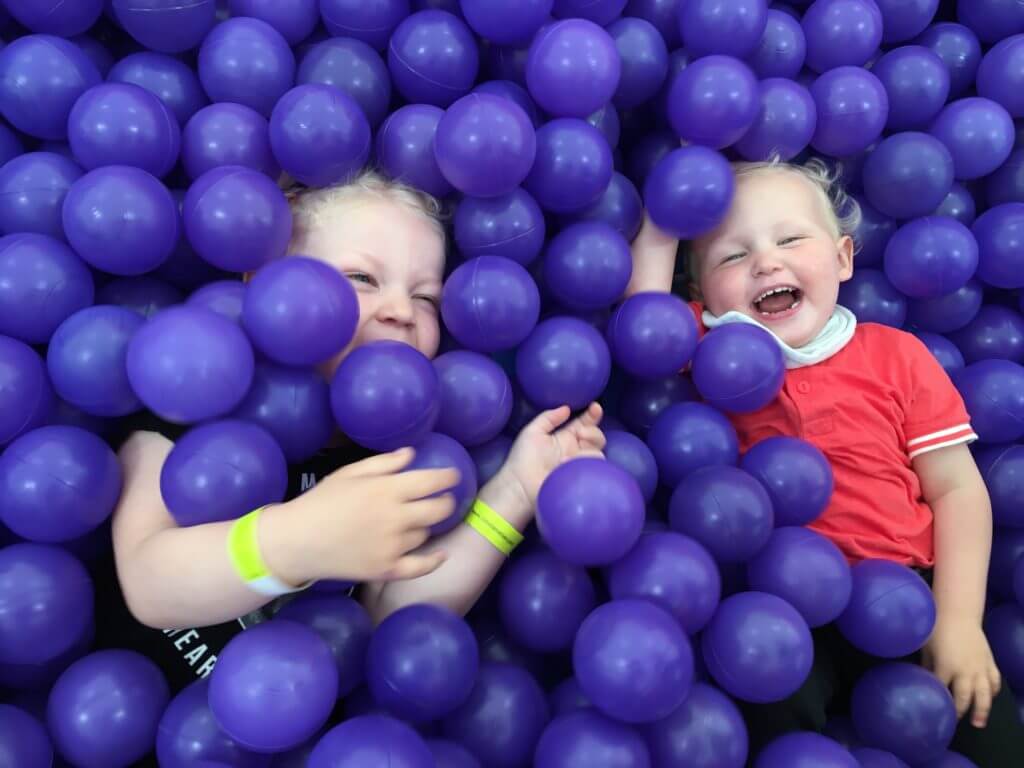 The first thing that struck us when entering the arena was the bubbly, friendly nature of the staff when welcoming us to the venue and also whilst on the inflatables. They were engaging with the children and most certainly added to the experience. Socks aren't provided so ensure you wear some as bare feet are not allowed.
There are lockers available for a returnable £1 so that you don't need to worry about where to stick your belongings. We opted to use the free cubby holes for shoes, jackets and the nappy bag. A bottle of water is a must as you will end up hotter than the surface of the sun, gasping for a drink. If, like us, you forget to bring water they sell refreshments at the going rate.
So that it doesn't get too busy, groups book onto one hour slots. If you don't want the fun to stop, customers are able to book additional hours at extra cost. After an instructional safety video we were ready for the fun to begin.
We were spoilt for choice with what to do first as we saw the various areas. There's Inflata Duel which harks back to the event Shadow used to dominate on Gladiators. Inflata Race allows you to sprint, bounce and slide through an inflatable assault course. Then there's Inflata Balls akin to the Total Wipeout big balls challenge. Inflata Wreck sees you and your group balance on wibbly wobbly platforms and attempt to knock each other off.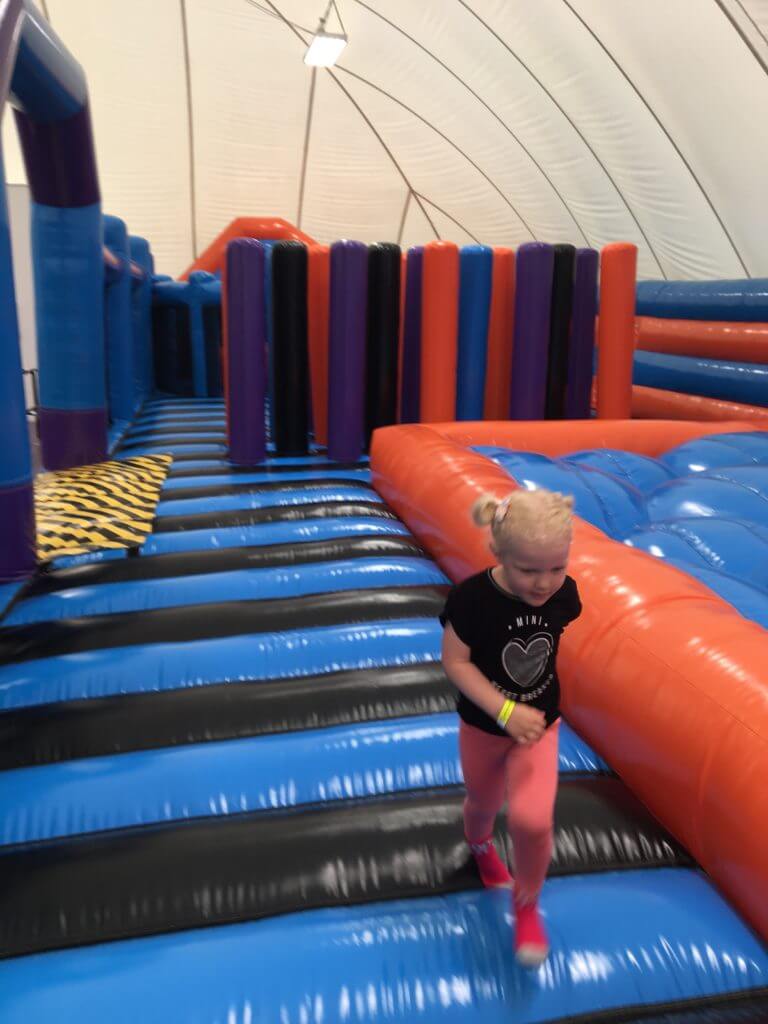 You can book your kids onto the course by age groups. There is a great area for 0-4 year olds and the rest of the arena caters for ages 4-15 years. Ayla is 4 and Daniel is almost 2 so we were offered an Inflata Tots session but to be honest you're able to go into the larger arena as long as your little one is able to walk unaided and you supervise at all times. The bounce session attendance numbers are managed sensibly and neither of the kids were bumped or knocked whilst playing. Inflata Nation also run disability friendly sessions which are less quieter with music turned down.
Which is more than I can say for myself. All the slides are proper…err…slidey and fast. There are big ones, ones with bumps, ones that land you in ball pits and even one that chucks you off the edge where you land into a sea of giant inflatable pillows.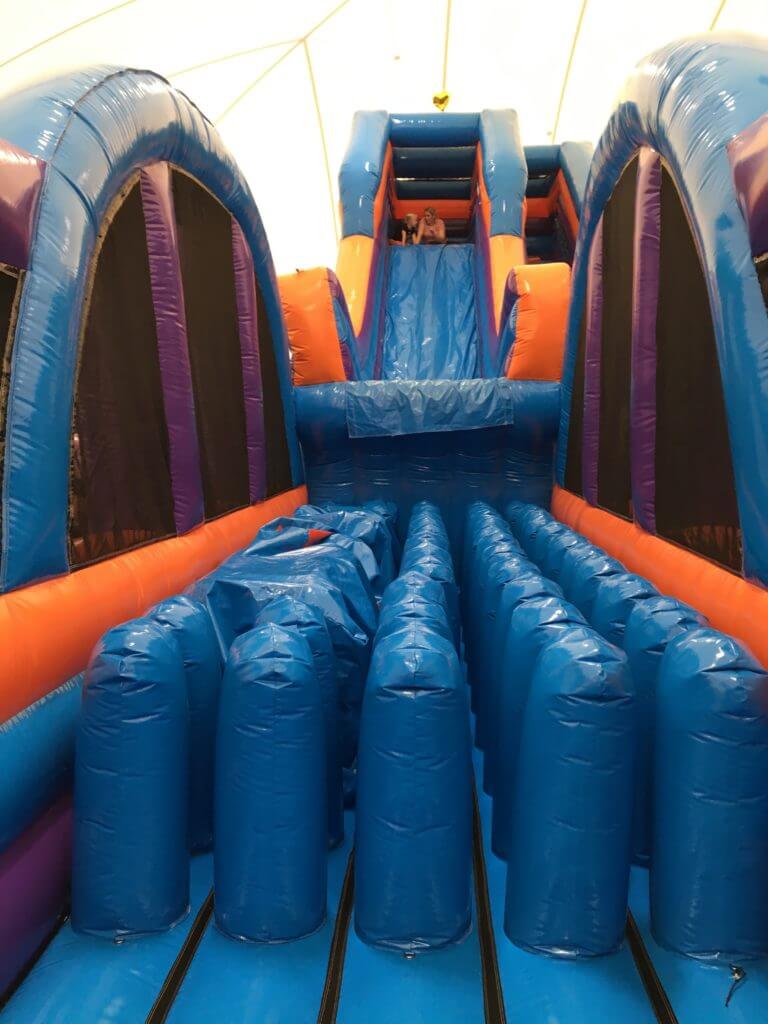 On one such slide (admittedly a smaller, less frightening one) I committed the cardinal slide sin of putting my elbow down. I ended up grazing the skin. As I reached the bottom with Ayla by my side, its not beyond the realm of possibility that I let out a massive "ARRRGGGHHH!" and dramatically landed in a ball pit. Onlooking adults, including my Mrs, felt my pain and for the rest of my time my mantra was 'keep your arms up'.
Ayla's favourite part was the huge ball pit with the fast slide. Seeing her whizz down giggling was a total treat. Daniel was his usual daredevil self and seemed to love throwing himself off pretty much everything. It was refreshing to just let him go for it without panicking about him doing himself a damage.
Inflata Nation Newcastle is fun for all the family. There's even a Café Nation with seating upstairs and down for the folks who don't want to enter the arena, which is a perfect vantage point to keep an eye on those pesky kids. I will say I probably lost about 3 stone in water weight jumping around the place.
I may have also catapulted my kids and possibly a few others about as I was bouncing! It was a great day out where we will definitely visit again. For our rugrats, the hour session was definitely long enough, we all emerged smiling, sweaty and shattered.