Despite both still being at a relatively young age, our children have already had a wide range of obsessions when it comes to what they watch on TV. Both have shown early signs of 'fighting over the remote warfare' and thus limited my own choice of screen time (humph!) Here's what kids watch –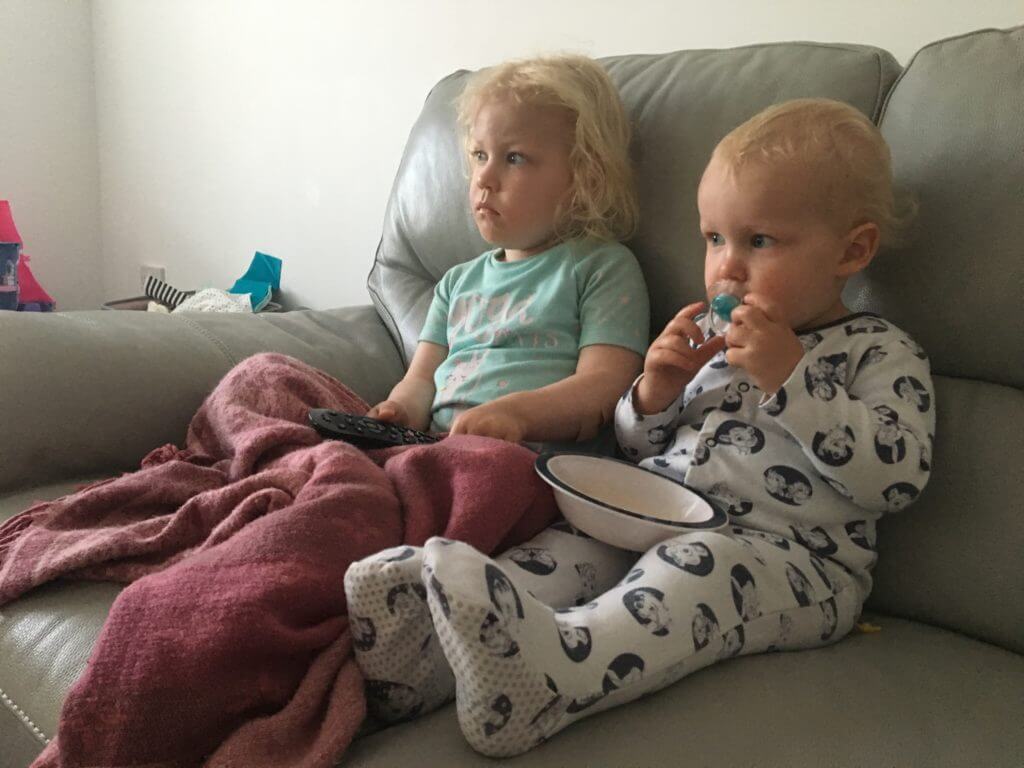 Ayla
Twirlywoos
Twirlywoos, the educational show about a family of aliens who come ashore on their big red boat to discover new things and concepts. This was the first show that Ayla pointed out on the telly and would sit quietly, watching intently. Her love of the show quickly resulted the purchasing of all of the plush characters including the quacky bird. It also brought about my winning streak of Twitter competitions… it was like a lottery win when we not only received a book bundle but also, the holy grail, a DVD!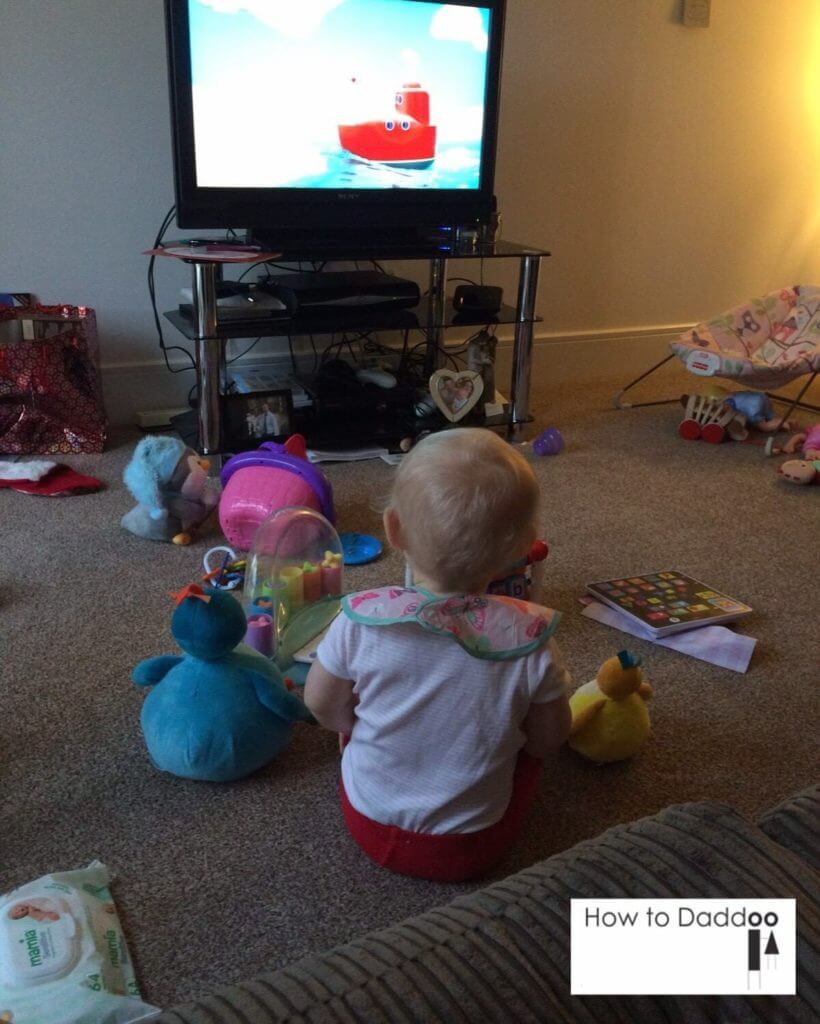 Jungle Book/Lion King/Disney Princesses (Tangled)
As with all children Ayla has been enchanted by Disney movies. As a very young whippersnapper Ayla loved Jungle Book and became even more obsessed with the Lion King franchise. At 19 months old, she could sing the opening number and even got a shout out from Lion King the Musical on instagram. I personally believe Lion King 2: Simba's Pride manages to outdo it's more popular predecessor. Even now we play games pretending to be Simba and Nala respectively (my Matthew Broderick impression is movie quality).
Tangled was the first proper princess movie that she became captivated by. As parents, Rachel and I will never forget Tangled (literally never forget it, word for word) as it was the first movie that our girl watched daily, on repeat, numerous times, forever and ever, amen.
"Pink" (Youtube Kids)
When around others, the request by our toddler to watch 'Pink' is often followed up with questions about the singer and her songs. Ayla proceeds to look at them blankly as, in her mind, 'Pink' is something completely different. After a conversation about colours over the fence, our old neighbour recommended a Pancake Manor song of the same name as Ayla's favourite colour on Youtube Kids. We downloaded the app and our then 2-year-old (and I) binge watched the whole Pancake Manor channel. From that day on, Youtube Kids was known in our household as 'Pink'. Ayla is currently going through a 'Pink' phase again but has graduated to more random viewing. The video's on this app never fail to boggle the mind. From adults playing with and reviewing kids collectables to digging toys out of bowls of Skittles, random is the best way to describe it. One clip that caught my eye (and slightly traumatised me) was a 'Mufasa's Story' fan-fiction video over the strains of Charlie Puth's 'We Don't Talk Anymore' (?!)
Our girl loves the educational and singalong videos about the planets, brushing your teeth and slightly updated nursery rhymes on channels like ChuChu TV . However, we really went down a strange rabbit hole with the platform when she became slightly (ok, massively) obsessed with surprise eggs. At this point we had to set time limits.
After a particularly annoying bout of watching the whiney Elsia and Annia (copyright-free, toy versions of the Frozen characters) and their somehow more annoying parents, we noticed Ayla making her dolls bicker in free play, this gave us the perfect excuse to ban her from watching that. Thank god!
With Ayla we started out a CBeebies household then Disney Jr but always watching Channel 5's 'Milkshake!' on a morning. You can imagine our shock and dismay at Ayla's damning "I dont like Milkshake anymore" Our little girl was growing up.
Daniel
When Daniel was younger, we would often rely on Baby TV to give us 5 minutes relief. The downside is when you forget to turn it off and there it is playing in the background long after the kids are in bed. It's slightly more psychedelic programmes were pretty weird, making you feel like you'd taken something dodgy at a festival.
To be honest, any time Daniel would be quiet and content watching anything is more than welcome. He is known to get into everything and be a busy bee pretty much 24/7.
Thomas and Friends
Thomas and Friends was the first thing Daniel would point out he wanted to watch on the telly. He can't get enough of the Fat Controll… I mean Sir Topham Hatt and his steam engine workforce. It's mostly the theme tune that got his attention and on occasion we've been know to replay that snippet numerous times so he can have a good dance. Side-note: it's the 'They're two, they're four, they're six, they're eight' version that gets his feet tapping, not the original and certainly not this new fangled one about world adventures. (All you recent Thomas fans will know what I mean!)
Moana
Up until very recently, Daniel was never a fan of full length films. His 18month old attention span was limited to 5 minutes at most, at which point he'd be back out of the room attempting to scale cupboards and the like. His love for Moana began with playing with a singing doll which his big sis received for Christmas. After about a week of the 20 second 'How Far I'll Go' snippet haunting our dreams, we stuck the DVD on and a fan was born. For the last 6 weeks we have had the pleasure of Pua and the crew gracing our screens. Daniel no longer calls for his Mama upon waking but now the familiar call for his one true love 'Oawa' (Moana). To begin it was a welcome addition to the household TV rota but now even Ayla is saying 'Ahhh not Moana again!'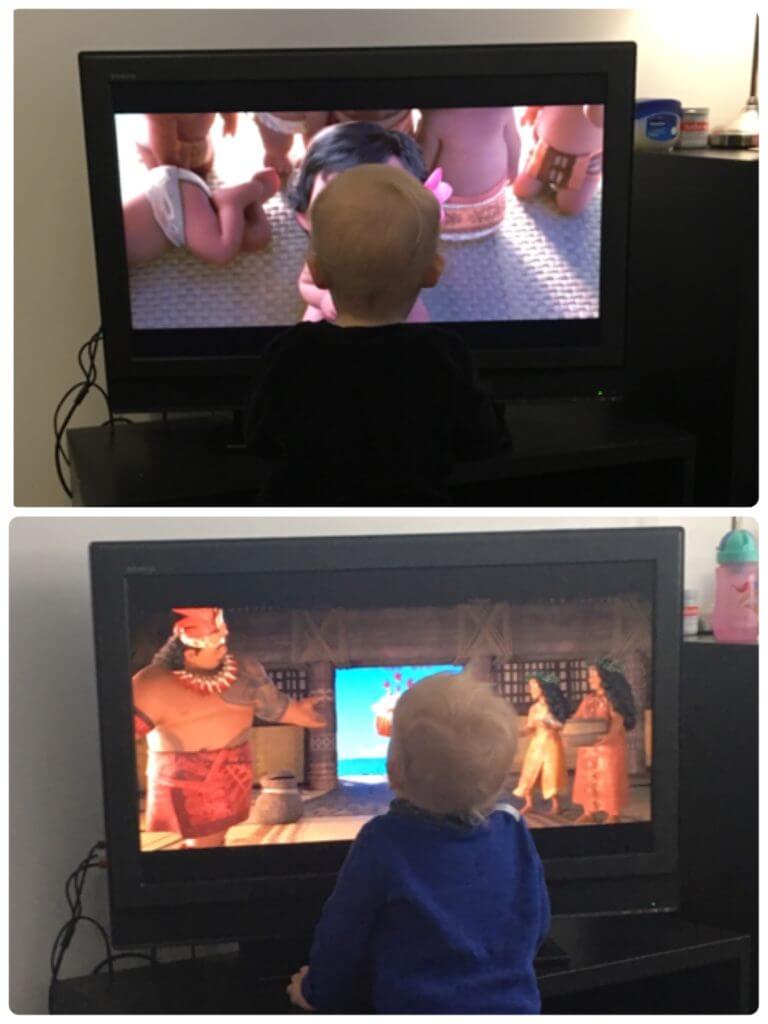 Greatest Showman
Let's face it, The Greatest Showman is a modern day triumph. It's fun for the whole family and we can watch it anytime. Thankfully, both of our kids love it and sing along with the songs. We spend a lot of family time re-enacting the dance routines in the living room. I'm sure our across the road neighbours think we're slightly mental particularly when we perform our 'Rewrite the Stars' ropes routine.

Time for TV
I know this blog probably sounds like all we do is watch TV however, please don't worry, our kids definitely don't have square eyes (yet!!) Let's be honest about it, in amongst the day to day chaos of nursery, work, drop offs, days out, toddlers, time with friends and family, swimming lessons, playing out and everything in between, there is a time and a place for chilling out watching the box. In our house, it adds to our family bond, we laugh, cry, talk, reenact and react to the things we watch, most importantly, together.