For many reasons, my wife had to work really hard to breastfeed. She had a couple of obstacles to get past which sometimes prevented her from enjoying the breastfeeding journey. With both of our children she struggled with positioning which seemed to affect the latch creating a toe curling, tear-inducing pain. Once she'd manage to get the baby on and feeding more comfortably I remember her then complaining about back pain. She never moans or anything my Missus! I only really understood her plight when we started introducing a bottle and I was able to offer my feeding support.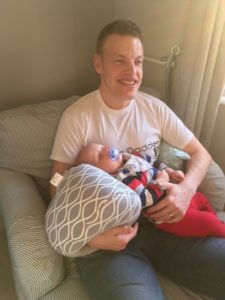 I would more resemble a jiu-jitsu combatant while bottle feeding, scrambling with my child for the better position with our limbs flailing everywhere. Now that back pain is awful. A searing strip right under your shoulder blades coupled with an aching neck from hunching forward and the odd dead arm – ouch! No one tells you about that before you become a parent.
So when Itzy Ritzy got in touch about their latest product, the Milk Boss, you may have heard a few intrigued "Oooo" sounds in our house.
Milk Boss was created to make breastfeeding and bottle feeding a more comfortable, bonding experience for both you and your child. It can also be used generally as an arm and burping support. We couldn't wait to give it a whirl.
The Milk Boss can give great benefits when –
Breastfeeding – You can adjust the height to suit you and your baby. The cushion lifts your whippersnapper to the breast to relieve the discomfort of bending over to feed.
Bottle Feeding – It positions your little one at an angle to reduce reflux and improves the posture of the feeder. I feel I need this in everyday life, anyone else a sloucher?
Comfort – No cross-stomach components make the Milk Boss ideal for use for Mums following a C-Section.
It's like an ingenius cushion with a hole in the middle. The larger bottom part of the cushion supports your arm, allowing more bonding time, less time jockeying for position. There's also a stay-cool inner lining to keep your arm at a comfortable heat. Both our kids are like me, in that as soon as they fall asleep they begin to sweat profusely. Add to the mix they become like a hot water bottle when sleeping on you resulting in a very sweaty arm.
Burping/Reflux – Because of it's shape you can rest your baby's tummy on the support to burp following a feed. You're able to rock the baby back and forth to get that pesky gas out.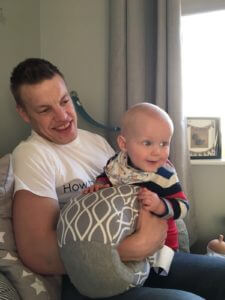 Travel – The Milk Boss is compact and can be packed up easily when you're on the move.
The first time we tried the Milk Boss was during a night feed. I'd retrieved Daniel's bottle from downstairs around 4AM and sprung on my weary wife that she should give it a go. Rachel may have rolled her eyes slightly but used the Milk Boss whilst she fed our 7-month-old son. She gave me the empty bottle and the Milk Boss to put away.
"It's alright." was her two word review which is as good as you're going to get from either of us at that time of the morning. The following day she did elaborate saying "I wish we had this earlier!" and that she could relax more when feeding him.
Upon further use I can confirm 'arm-sweat' is now a thing of the past during feeding time. The inner lining also feels softer than velvet gold woven by angels.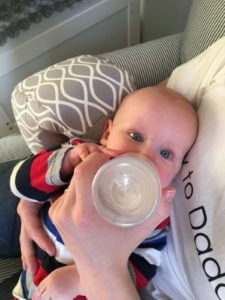 My mother-in-law has also tried it out and she was highly impressed. She mentioned that it would be good to have one at her house whilst smiling and raising her eyebrows – I think I know what she wants for Mother's Day!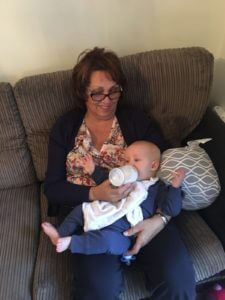 We'll certainly be using the Milk Boss from now on in our house. The old stress on the shoulder, arm and back when bottle feeding is hopefully a thing of the past. I'm now able to sit with my arm in the hole, remote in hand while Daniel chugs his bottle and relax my whole body.
The only thing is, my 3 year old has found the Milk Boss a perfect home for her miniture Troll figurines. We had a slight problem evicting them but have come to arrangement – they must vacate their home when the 'giant baby' is hungry.
N.B. This is a paid post having received product and payment to review from Itzy Ritzy. Even as compensation is received, this will not influence the views, opinions or beliefs of the blog owner and all content is open and honest.