When your child begins to speak, as most parents will attest to, you become somewhat of a translator for your them. Some things can get lost in translation.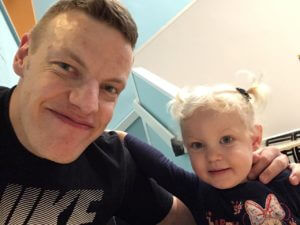 When Ayla was just beginning to talk there was many occasion when I'd feel compelled to shout at a stranger what it was she was trying to say while they nodded, politely smiled and backed away slowly. As Ayla became more confident with her words, she began formulating sentences. I found a lot of humour in some of the things she said.
Here's a list of some of the gems she'd come out with:
Phrase – "Scarf"
Translation – Referring to Scar from the Lion King but us thinking she wanted to wear an actual scarf.
Phrase – "Dat one!" (Said with all the conviction of a UK grime artist.)
Translation – That one!
Phrase – "Life on! Feel! Feel!"
Translation – Requesting the songs 'Circle of Life' and 'Can you Feel The Love Tonight' on a car journey.
Phrase – "Shumper"
Translation – Thumper (Bambi)
Phrase – "Naughty Pork Pie Got Barrrmbi's Bot."
Translation – Naughty porkupine got Bambi's bottom.
At age 3, Ayla's vocabulary seems to be increasing on a daily basis. My wife and I often say to each other these days, "where's she heard that?" and "how does she know that word?"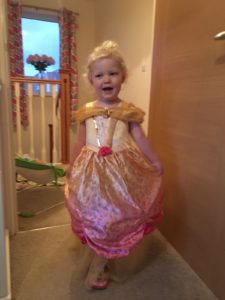 Being stuck indoors during February's Beast From The East' snowstorms drove us all a bit stir crazy. I've pretended to eat fake ice cream while Ayla held me at knifepoint (using a comb!) and pretended to lift the kettle like a football trophy while making brews. We did however get to hear more gems from our little girl. Here are a mere handful. I could have gone on for days…
"Jack's mother was not impressed with those beans." – Jack and the Beanstalk reference.
"Are you concentrating or what? You must concentrate when I'm colouring."
"You have to be seven to dance! So when you're older you can dance!" (Pronounced da'ance)
"Right, I shall be Belle and you can be the hideous Beast. Don't worry, he's not a true villain."
"Oh yes, my tummy would certainly like some food, it is rumbly now."
"Oh, here is my sweet, precious prince. Yes, he is awake now!" – About her baby brother.
"PJ MASKS ARE ON OUR WAY INTO THE NIGHT…AND WHAT DO I MEAN?!?"
"Joy has blue hair, Anger is angry, Sadness is sad, Disgust doesn't like Broccoli" – Ayla's summary of an 'Inside Out' book we read.
"Beast, I'm having a poo so…do you have Frozen powers?"
We'd love to hear some of your little one's funniest phrases in the comments below…