There's something about Daniel Jr and his baby sick. Now I know most babies are sick and regularly bring up their feeds. Yet Daniel seems to have an innate ability to do it at the worst possible times. For his first eight months the most commonly used words in our house have been "Quick! Pass the muzzy!"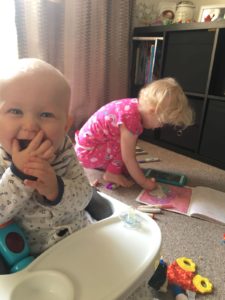 These inopportune times include and are not limited to –
1. On his fourth change of the day –
When everyone is finally ready to leave the house and usually running late. The multiple changes once prompted me to abandon all plans to leave said house, stay in and sit sulking in my sick sodden clothes. A shell of a man.
2. With only two clean sleepsuits left in his draw –
Daniel happily watched me clambering around for his nightwear timing his chunder, on both occasions, to perfection leaving me with nothing to change him into and the little fellow continuing his wry smile straight through me.
3. Always on the one person he shouldn't be sick on –
At Ayla's 3rd birthday party a family friend who actually still takes some pride in his appearance (no kids yet!) was dressed in 'all black everything' designer clobber. After being pre-warned with another family catchphrase "Careful he's not sick on you!" Our friend took his fate in his own hands laughingly saying "Aw, he won't!"
The two lads posed for pictures before Daniel quite literally 'whitied' what seemed like the whole of his last 7oz feed all over the crotch and inner leg of our mate's black jeans.
4. With military precision –
Daniel's heaves are so tactical he somehow manages to get it on every item of clothing you're wearing. Despite my outfit for the day being ruined it's actually quite impressive. I rarely return from feeding him without having to completely change my whole outfit.
5. My wife's freshly washed and straightened hair –
I've lost count of the amount of times Rachel has had to re-wash sections of her hair. On the odd occasion she's had to wash the lot before dashing out and sport the bedraggled-wet-hair-caught-in-the-rain look.
6. So it proper stinks –
I have it on good authority the stench of baby sick clings to everything it comes into contact with and sometimes simply lingers in the nostrils. Although I don't have a sense of smell, I'm almost certain I smell of baby sick a good 98% of the time.
7. Always on the one object he shouldn't be sick on –
Whether its in all the buttons of the Sky remote to the point it doesn't work anymore or when he's in his Jumperoo so it trickles down into every nook and cranny Daniel finds a way.
8. When he makes you look like a bad parent –
Daniel has a trick when he does it on the sly, generally in the baby section of the softplay. There's nothing worse than sitting beside your crawling baby looking like you're paying attention only for another parent to point out to you that not only has your son been sick in a communal area but has also managed to faceplant it with the evidence splattered all over his face, somehow getting it in his eyelashes?!
Note: Ironically whilst me, Rachel and Ayla all caught a sickness bug last week, Daniel was the only one who remained unscathed. So maybe the little tyke's not so bad after all.