There are times when our children get more attention than me in public. This is fine and to be expected. Here though, I document my irrational struggles with this and how I've adapted and overcome.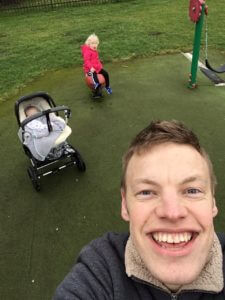 I'm regularly told our children are "gorgeous" which they undoubtedly are. However, I naturally take it as a huge compliment to myself when they follow a compliment to Ayla up with "she's your spitting dabs" or she's "just like her Dad" soon after.
You see, I was born for the stage, despite never being on it (barring one, barmstorming performance as a Macho Man action figure in my Junior School Christmas play, To The Rescue). I may come across shy and retiring, but I do love being centre of attention.
I remember sitting with the kids at a table at a local cavery waiting for our Sunday dinner. An old lady approached, shunning her husband into the seating area at the back of the pub, just to get a closer look at our beautiful kids. Despite outwardly beaming with pride I may have had an envious green tint wash over me.
My initiation into having a family of my own was swift. We were engaged after 12 months, just 6 months later we were married, shortly followed by finding out we were expecting our first baby after a mere 3 months of wedded bliss. I was used to being the son. My Mam's 'little soldier', her 'gentle giant' and celebrated everywhere we went. My health issues when I was younger only made that bond stronger and I'm still popular with my folks despite my precarious position as the often forgotten 'middle child.'
I had to quickly adapt to no longer being the centre of attention. People would approach the pram and while popping pieces of silver in the transport device I'd stand awkwardly while both children were lavished with deserved praise.
When Rachel became pregnant with Ayla I expressed my concerns I may get my nose pushed out of joint in favour of the baby. Here we are three years later, where I am firmly Rachel's third favourite person in the household.
As soon as Ayla was born, Rachel commented how she looked like me. To this day one of my hobbies is replying "Handsome!" to anyone who tells me Ayla is my spitting dabs, and the confused look on their face that ensues. At least in that brief moment of bemusement attention is focused solely on me, me, MEEEEE!
Daniel is dubbed Rachels double and I know the little tyke gets away with murder and is likely to continue to do so due to his cute angelic face, sporting bright, blue eyes. Yet again I have been shoved down the pecking order. I swear, he gets way more kisses that I do, or arguably ever have done.
Like all parents, we are totally biased and think that our own offspring are the cutest around. However, it does strangely give me an additional ego boost when ladies comment on my son, 'he's going to be a heartbreaker'.
I know what some of you may be thinking, beauty is only skin deep and I assure you I'm really not that shallow, but lets all admit, a compliment to your child is like a medal of honour and yes, I am unashamedly taking full credit for the adorable, well natured little people that jaunt about with me. When it comes to grumpiness, tantrums or any other unpleasantness, what can I say, they don't get that from me! (Please, no-one share this post with my wife) delete, delete!!