Well, I've been building up to posting this for the last few days as I haven't had the right words but here goes…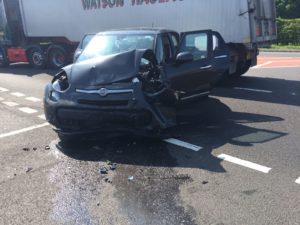 On our way home from an amazing family break at Berwick Holiday Park, on Monday, Rachel, the kids & I were involved in a serious car accident. The head on collision was caused by someone 'in a hurry' pulling directly into our path on the A1 from a central intersection.
We span twice only stopping because we span into the same car. The airbags went off and what we thought was smoke filled the carridge. We quickly got out to assist the kids. When I tried lifting Daniel, I got a huge burning sensation around my hip and slumped down the side of the car. Rachel's poor parents were following directly behind us and unfortunately they witnessed the whole thing.
I am posting this to say PLEASE put your kids in appropriate carseats & please wear your seat belts! What unfolded was completely unexpected, completely unavoidable for our family & could have very easily ended in a completely different way.
We are extremely thankful that our two beautiful children (10 months and 3 and 1/2 years) were virtually unharmed. I put this miracle down to our choice to have them in excellent car seats. Carseats are something we invested more money that we could really afford in (even having to take out the interest free finance option to cover) but my goodness has it been worth it.
We have always been big advocates for rear facing for as long as possible & although our daughter is now forward facing due to weight/size regulations, the fact that our baby son was rear facing has resulted in him being completely unharmed.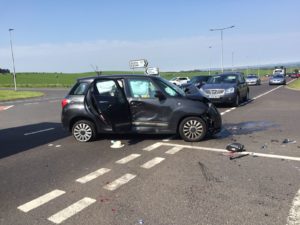 Rachel and I have some injuries but I can say with confidence that our seatbelts saved us from a much more serious aftermath. We are feeling very lucky.
I'm sorry if this sounds 'preachy' but if you are someone who nips out 'in a hurry', please consider the devastation that one action could cause for a young family like us, or anyone for that matter.
As my dearly departed Dad used to say after I passed my driving test "It's better to be five minutes late, then five minutes early in the next life."
Huge thank you to all the emergency services involved, paramedics, ambulance staff, Northumbria Police and the amazing members of the public who stopped to help us.
My family are my absolute everything. I thank god we were all able to walk away from this accident with our lives and moreso the kids avoided harm.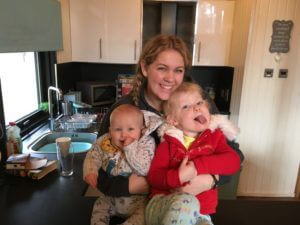 To our family & friends, we love you, thank you for your love, care & support over the last few days & beyond. Our guardian angels, we owe you big time!