As some of you may know, we had some good news over Christmas. Yes, Ayla received a kitchen from St Nick! She now cooks every meal and I live on a diet of invisible, plastic and wooden foods.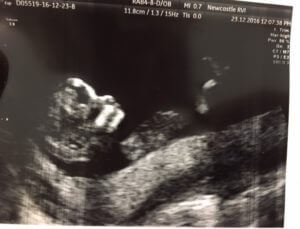 I digress, that's not what I'm meant to be blogging about. We announced on Christmas Eve we're now expecting our second child in July 2017. Yes, we announced it on Facebook despite my attempts to make it a How to Daddoo world exclusive.
I explained in a previous post, how I struggled to come to terms with the fact we were pregnant the first time around with Ayla. Despite being in a loving marriage, I was still scared and unsure I could look after myself. Let alone a new, small dependent human.
This time around, there's a much more relaxed atmosphere around the place. I realise life is way too short to worry about 'what if' and 'buts'. I choose life!
I don't know if it's the fact that I'm now over thirty. Maybe it's a 'been there, done that' scenario but everything seems a lot less daunting this time around. Somehow I feel more in control. Please remind me of these words in seven months time when we have a two and half year old and a new born baby.
We went for our first scan on the 23rd December so I thought we could save a fortune in Christmas presents handing out scan photos to everyone we knew. Generally though, announcing you're pregnant on Christmas Eve is a wonderful thing. We had a few 'creative' ideas on how to announce it. We researched and found some rather unique ideas. I loved Tom Fletcher's 'Player 2' announcement but Rachel wouldn't go for it. There were also some pretty creepy, awkward family photos that I can't remove from my brain. A semi-naked dad holding a raw turkey over his belly is still etched into my mind.
I may be biased but the fact our daughter is so cute meant the only choice was to go with the slightly predictable 'Ayla's Christmas List'. I know what you're thinking, Ayla has really neat handwriting. It almost looks like it has been typed.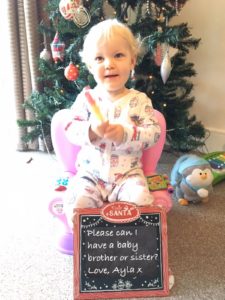 We're really excited to see Ayla with her new baby brother or sister. She got a few baby dolls for Christmas to practice looking after. My aim is to fully train her in nappy changing, feeding, bathing and babysitting. Note to self: teaching Ayla to throw her dolls into the air may not be the best idea.