When I was first approached to review BeKOOOL gel sheets, I did wonder when I would get the opportunity to test them out on Ayla. At first, I considered letting her run around in wet socks which was clearly stupid. My next idea was turning the heating up in the house which was again a barm-pot scheme.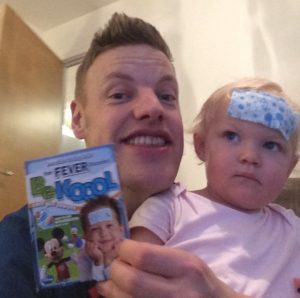 However during the holiday season, time is of a premium. This can result in rising early making visits with family and friends and staying later on an evening, way past Ayla's usual bedtime. With cold and flu season in full effect, the amount of coughs, colds and bugs our extended family have endured over this festive period has been excessive to say the least. Miraculously, Ayla seemed to have got away scot-free.
Then, one afternoon Rachel was out visiting a friend and there was just me and Ayla chilling watching DVDs. She'd been off her food and seemed lethargic but I put it down to the comedown of Christmas. I know I feel like I needed to sleep for a week. Ayla nodded off around 4pm which is totally unlike her and had a restless snooze on the sofa. Her little curls started to appear and I noticed she was sweating profusely.
I took the usual precautions, stripping her down to her vest, prepared a drink of water, got the medicine ready and contemplated ringing the missus. Ayla was rather grouchy, refused the water, was still very hot to touch whilst scowling at me like the Grinch for pestering her.
Then I remembered the BeKOOOL gel sheets were in the cupboard. I pulled the box out and read the instructions. It seemed pretty simple and I thought I'd give them a whirl, if Ayla would let me. BeKOOOL gel sheets provide immediate cooling relief in, what is, a convenient and disposable product.
As soon as I got the little gel sheet out of the box, Ayla seemed interested. The Disney characters seemed to hold her attention and I told her she was getting a 'special sticker' since she'd been such a good girl. I got the gel sheet adhered nicely to her forehead without struggle and to my amazement she actually left it there. We settled back down on the sofa to relax. This product did what they said on the tin.
I'm actually really impressed with these little gel sheets and the fact that they can provide up to 8 hours of cooling relief and can be used alongside medication if required. Ayla certainly liked them and she didn't try to eat it, always a bonus. When removing the gel sheet it gently peeled off and left no residue. Ayla has definitely cooled off. I'm pleased we now have them in the medicine cupboard.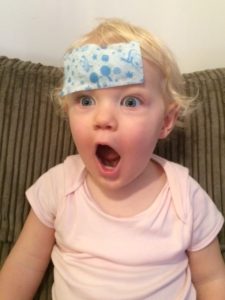 BeKOOOL is available in the U.S. and Canada and with the following top retailers:
CVS
Walgreens
Amazon
Rite Aid Pharmacy
N.B. This is a sponsored post written with BeKOOOL