Around the 10-month mark, Ayla's first Christmas was fast approaching. This prompted the neighbours to put up the equivalent of Blackpool illuminations around their premises. Next doors were mega bright, that white/blue light that dazzles your eyes. Add to that the fact they were on the 'random' setting, they would go from solid, steady flashing, fade in, fade out, RAVE ON mode and back again.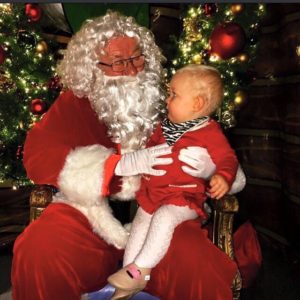 The first few nights whilst I was working night shift my wife was not happy. They flashed so brightly in Ayla's bedroom window it rendered her blackout curtains useless and kept her awake. I had to have a quiet word with them and although still resembling Operation Welcome Wagon from Independence Day, they kindly stopped the flashing.
As with any 'present giving occasion', my wrapping left a lot to be desired. A wrapping technique that can only be described as scrumple and clag. If the present inside is completely covered it's a job well done in my book.
There's nothing quite like Christmas. It evokes special memories of getting up early. My Dad would get up to "check he's been" when he was really going down to stick the kettle on and get the bacon sarnies started. Fast forward to Christmas as an adult and the novelty of awaking early had well and truly worn off. That is, until Ayla's first Christmas day. One thing beats being a kid at Christmas and that's being a parent at Christmas. I don't know who was more excited – actually, I do – me and my wife were way more excited than Ayla!
On Christmas Eve we did the whole 'magic reindeer food' thing that Ayla (okay, Rachel) had made. I took Ayla out the front to scatter the glittery porridge oats about while Rachel chanted some weird rhyme – Ayla decided she needed a taste and we had a slight panic about glittery poo. We put on new Christmas Eve pyjamas and got Ayla off to bed. My wife then realised we'd not put Santa's mince pie & Rudolph's carrot out so, baby in bed, we rustled around the cupboard and left a half-eaten Maryland cookie (we had no mince pies) and a pre-cut carrot stick on a plate. That would do!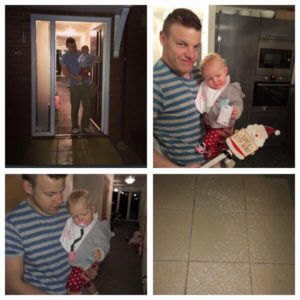 That morning felt just like when I was a kid. I woke up too early and asked Rachel "can we get her up yet?", to be told to let her sleep a bit longer. I lay there awake willing Ayla to make a noise so I could go get her. I must have dozed off as when she finally woke up I'd forgot what day it was doing the usual 'roll over and pray for another five minutes'. Then we jumped into action and off I trotted to check if 'he'd been'. When she came down stairs I sort of expected some warm, touching Christmas music like the final scene on Home Alone to pipe up while we all smiled with glistening eyes. It was magic but not quite to that extent!
Ayla had opened her Twirlywoos Board Books and Little Library that I'd won in a twitter competition. We spent the next hour correctly pointing out Peekaboo on the pages. She played with a cardboard box and got amongst the mass of empty wrapping paper leaving her new gifts looking on forlornly like an island of misfit toys. We visited family and had a great day all round.
Being a Dad at Christmas is great but so much more tiring than previous years. A total bonus was that Ayla got so many selection boxes. Our 'treat cupboard' ended up overflowing with chocolate and biscuits. I even had to take my Sugar Puffs out to make room! It didn't stay there long, I had to do my bit to make sure Ayla had a healthy, balanced diet and all that so I helped her out with it a little. I wanted to take some left-over chocolate from Christmas into work but I had to smuggle it past Ayla first, she'd break my fingers if she knew I was taking her treats.