I often find myself, like I'm sure many other Daddoo's do, hiding in the toilet using some kind of device (GET YOUR MIND OUT THE GUTTER!) such as a mobile phone or tablet. It's then I realise, looking up irrelevant information to my life, there's nothing to hide from. It's much better and more beneficial to engage and be pro-active in family life. So, I run back out and join in the fun.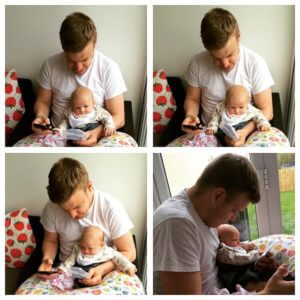 When I see other Dads pushing along a pram with the view of their child being blocked by their phone it fills me with disappointment. Not only for that precious parent/child time being infringed by the cellular strain but because I know I do it far too often myself. We as a generation have become too reliant on our phones, choosing to gaze at them like zombies rather than interacting in person with each other. I'm a massive culprit for it. Often when someone's had a misfortune or at loggerheads in the street it's more common to see rubberneckers get out their phones rather than help the unfortunate soul in the mire.
I understand the temptation to whip out your phone and have a gleg, while your little one's seemingly engaged in something else. I now try to fight it as much as possible. My wife has pointed out several things I've missed in the past, usually met with a blank expression and being asked the dreaded "Are you listening? What did I just say" questions. As adults, everyone's been on the receiving end when some ignoramus is staring at their phone, totally blanking your attempt at a conversation. Let's face it, it's really frustrating so imagine how our little one's feel.
For a long time, I didn't see what an issue it could be. A few months ago, Ayla walked over to me, snatched my phone from my hand and put it on the other side of the room. This was a huge sign to me that my daughter had picked up on the fact that she wasn't the focus of my attention. With that, I've come to a compromise. We're lucky now that Ayla has cracked the bedtime routine to have child free time from 7pm every night. This leaves plenty time to google such things as "Why James Jordan was sacked from Strictly", work on blogs and ignore your wife (only joking dear). My new rule is – when Ayla's up my phone is down.