Jeffrey Hayzlett is a primetime TV host on C-Suite TV, host of the podcast All Business with Jeffrey Hayzlett and chairman of C-Suite Network, the most trusted community of c-level executives.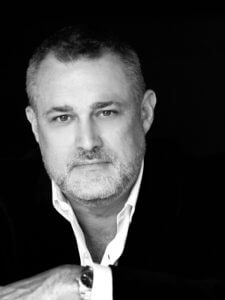 Jeffrey has managed to build a successful career, including spending some time as the CMO of a Fortune 100 company while maintaining a strong family life in his hometown of Sioux Falls, South Dakota.  Jeffrey is the father of two children and a grandfather to one with another grandchild on the way.  Though his career has taken him all over the world he has always kept his family close even when he was not.  In the interview below he shares some of the lessons he learned on maintaining work-life balance.
What is the best thing for you about being a dad?
You get to see the successes of your children and how strong they've become. You can see some of you in them but, more importantly, you see them in them. I think that's one of the best things about seeing your children grow into their own personalities and become responsible adults.
What has been your biggest challenge as a father?
Time. It's always a challenge around how to allocate it. On one hand you want to be a provider and on the other hand a nurturer / buddy.  What you always find is that time is always squeezed and you never know if you're making the right decisions. Until you see your children grow up, then you think maybe you shouldn't have spent so much time worrying about time.
Being a hugely successful business leader, how do you balance work and family life?
Many years ago I read, Stephen R. Covey's book, "7 Habits of Highly Effective People."  In the book he talks about a balance between four key things: family, spirituality, business, and friends. I always look at all four of those as being part of a four-legged stool and you have to have all of those in order to have a better life. So I constantly, strive to work on all of those so one leg of the stool doesn't get longer than the others.
What business lessons have you taught your children?
I never stop teaching my children business lessons. Every conversation and every day is a different lesson. What I have always taught them, is to do the job your way. You don't have to stand out or be unique; you just have to be you. That's what will give you the advantage over everyone else.
Does your "Think Big, Act Bigger" philosophy carry over into family life?
Constantly. Although, different people play different roles outside of the business. Each of us has our own job to do inside of the family. Sometimes it's my wife thinking bigger and acting bigger, or my son or daughter. Each of us has our own gifts and those gifts come out at different times.
What are your top tips for other working fathers?
If your children work for you, as mine do, sometimes it's hard to be a dad and be a boss. One thing that helps is that, I have always strived to put another person between my children and myself. There is always going to be someone that thinks they have gained their success because they are my children. So one of the most important things you can do to set them up for success, is to have them earn it and let others see their success and talent. Second, having someone between you, allows you to be a dad every once and a while or a CEO every once and a while.