As Ayla's first birthday approached, my wife and I began discussing whether Ayla would remember or even know she was having a birthday party and whether it was necessary.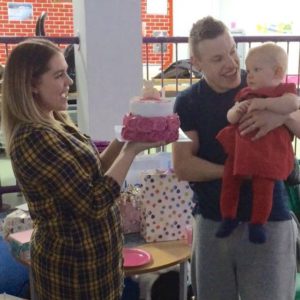 After all, she couldn't remember the last time she ate so I thought we could save money and effort, for Rachel at least. I suggested a little celebration at home however after both well balanced cases were put forward in a full and frank manner, we both agreed my wife was right (as we generally do!).
My wife, being the highly efficient organiser that she is, pulled together the day's agenda. We opted for a big messy play party complete with disco and bouncy castle, so at least I'd be entertained. The week leading up to Ayla's birthday, Rachel began sourcing everything she needed to create eight messy play stations. What followed in our kitchen baffled my mind. I can recall Rachel asking me to pop out with Ayla for an hour or so and off we went.
I returned to a freezer full of ice blocks containing dinosaurs and creatures, our storage boxes outside in the winter air containing jelly and multiple pans and freezer bags of spaghetti dyed various colours. My comment of "Why are you doing the buffet food now?" didn't go down well so we took cover in the living room.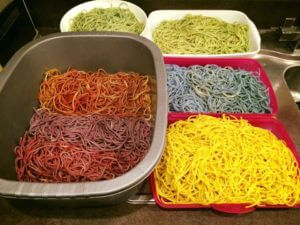 On one hand, a part of me becomes anxious even thinking about Ayla getting a speck of dirt on her clothes or skin. On the other hand, I understand getting scruffy is all part of growing up. Messy play also instills a fearlessness, a good learning platform for problem solving and allows your child to explore new textures and take risks.
On the morning of the party both cars we're packed to the brim. We had a schedule to follow and with the help of parents we managed to get set up, despite my customary lateness.
I've got to admit all the hard work was totally worth it in the end. Ayla and her friends really enjoyed getting messy although some of their parents shared my anxiety. My main concern: How do we clean them before they jump on the bouncy castle?!
Ayla spent most of her time sat in the flour eating rainbow drops, just like her Daddoo. The tidy up operation was military style. At one point, the scale of the task was a bit like hiking up Everest. I almost became hysterical and had to be told to keep it together, but we pulled it off.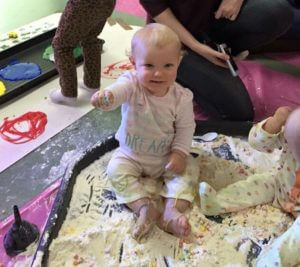 It was so lovely having everyone together, singing our girl 'Happy Birthday'. She was extremely excited by the cake, anyone who knows Ayla will know this trait has not changed.
Ayla had taken her first steps about six weeks prior to the party. She took full advantage of the crowd gathering and spontaneously power walked across the room to the delight of everyone watching. To say we were proud as punch is an understatement.
The aftermath of the party stayed with us for sometime. Ayla expected cake with every meal and thought any soft surface she stood on was a bouncy castle. So, when putting her in her cot at night, she would begin bouncing furiously on her mattress. This made bedtime even more interesting.
In summary of Ayla's 1st birthday, the decision to party was a good one. However, it made our decision for her 2nd Birthday very easy…not to party. This year we went with a more civilised gathering of family and godparents at our local child-friendly pub. In conclusion, the most important thing is having loved ones around to celebrate your little ones special day.