Our son Daniel turned one last week. Here I'll collect my thoughts on his first year, his birthday and parenting the tricky sophomore child.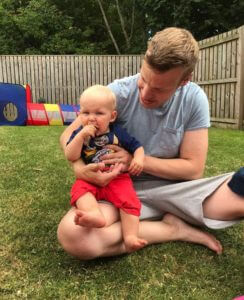 Now this post could get gushy. So gushing in fact, Piers Morgan would probably tell me to "Man up" but it's about my son, so he can shut up.
Daniel's Actual Birthday
The actual day went off without a hitch. Rachel planned a small cake and buffet (the spread may have had something to do with England playing in the World Cup quarter final later that day) and despite the football the turn out of lovely people was excellent that truly lifted the soul. The grub was decent as well!
Parenting guilt
I've found parenting our second child quite difficult and most definitely feel guilty about it. If Daniel Jr ever reads this I feel the need to apologise in advance. Don't get me wrong, I love the little guy but I don't have the same patience with him as I did with Ayla.
I half-jokingly feel like my time is done and I'm ready to go back to getting my full eight hours of sleep per night. He wakes at the most innopportune times for a nightfeed. Imagine a lie in beyond 7am?! It's laughable!
He kicks me, always in my injured areas from the crash. I'm also now adapting to life constantly only able to use one, free arm for carrying Daniel in the other.
Thankfully, Daniel took his first steps this week. Although, it offers little rest bite as he is also now at that awkward age where he can't quite fully walk yet but he can crawl at a rapid pace and clamber up to the most dangerous area of a room i.e. plug sockets, up the telly stand to give whoever's on the telly an open-handed slap, glass tables which he loves to hit – or lick, closing doors on himself or scurrying up the stairs. He gives "Put the seat down" a new meaning in our house as his new trick is plunging his hands in the toilet bowl. He'll plunge his hands in any liquid for that matter, my cereal milk, Rachel's more frequently used gin goblet, he's now fussy.
"Want to play with these toys son?"
"No Dad, I'd rather open this set of drawers and perilously hang off them or even jam my fingers here?"
Our son Daniel
The main reason I feel such guilt is at the same time I also realise how lucky we have been with Daniel. He's the most mild mannered baby I've ever come across. Everyone is always commenting how well behaved and relaxed he is (outside of the house!)
We're incredibly lucky to be blessed with the little tyke. He is a happy, little soul that has brought so much joy to our family. He's killing the milestone game as well. He has sprouted ten teeth and, as mentioned above, has began to take his first steps.
He's a hit with the laydeez as well and already lays it on (factor 50!) thick with any long haired waitress we've came across so far.
His wave is the cutest thing as well, resembling Salt Bae seasoning his favourite dish. His wide vocabulary now extends to 'Dadda', 'Mamma', 'Hya' and an attempt at Ayla – 'Ayya.' He even lashes out a 'Hya Ayya' on a morning which melts his big sister's heart.
Happy 1st Birthday son. You can still slap the telly, as long as Piers Morgan's on it.