I remember the first time I saw her. She saw me first apparently as I walked passed her in the bar. I was probably concentrating on which flavour bag of crisps to get with my pint. We were both attending a wedding evening with mutual friends and we'd met in a pub beforehand. We soon hit it off. In those early days she laughed at my jokes and didn't seem phased by the ropey stories my mates told her.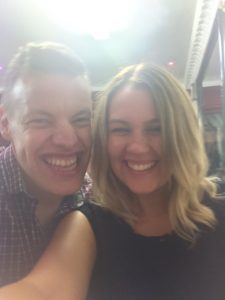 I remember how she told me about her life, her job, her family with such passion and energy. I remember thinking she was perfect wife material. Later, she naturally fell in love with my wit, charm and handsome good looks. Okay, it was actually my surname 'Gray' that attracted her (apparently she'd just finished reading 50 Shades). If I hadn't flashed my driving licence to prove my identity I'm not sure where either of us would be. Then the fact that I told her a burn I have down my left side (from drunkenly falling asleep on a hob) was a actually shark bite, well that obviously wooed her!
Over the next 6 months we laughed a lot, we became best friends, inseparable and fell in love. Some would call it a whirlwind romance. According to our best friends we'd actually been in the same friendship group for over 10 years yet our paths had never crossed. No wonder we got on so well, we had the same buddies but just never knew it. She'd managed to avoid my velociraptor-like stalking around town for all those years. After that short time we moved in together. Following a year of dating we were engaged and married in the winter, six months later. Our little girl, Ayla, was born just eleven months after we said 'I do'. That's when the fun really began. As you can see, we don't mess about.
When Ayla was born I quickly realised that 'couple time' was non-existent.  This new little person bursts in your house and consumes your time, heart and energy. Waking up for feeds or to attend to Ayla in the middle of the night became a regular battleground when we were both snappy and tired. In the early days when Ayla was born I wondered if we'd ever have couple time again.
On our first wedding anniversary, we left Ayla with Rachel's parents to go out to a nice Italian restaurant (three minutes from their house). Finally, we had time alone so guess what we did? We spoke about Ayla, worried about how she was, looked at photos of her on our phones and even skipped dessert to get back to her. Yes, this was our life now. As she's grown older we value our couple time more and don't dash back in such a hurry.
I must be a tricky person to be married to. I don't listen a lot. The stuff I do listen to I tend to forget. I can be a grouch at times. My excuse is, it's only when I'm tired. I'm tired a lot of the time. I also make excuses so I don't have to leave the house and stay in my joggers all day. I personally believe staying in is the new going out. Give me eating my tea and vegetating in front of the telly to Hollyoaks any day. If we go out it might rain and I'd get wet. Rachel, I'm sorry about that.
I'm not all bad though. I do make her a mean hot chocolate now and again. I almost always remember to turn the oven on when she asks. I've also been known to have water on my cereal so there's enough milk left for her cuppa (generally when I've forgotten to buy it.) I do my best to entertain Ayla so Rachel can have an extra hour in bed. We're still best friends, she still laughs at my jokes and now she's the one telling ropey stories about me.
On a serious note, my wife truly does deserve the world. I'd love to constantly shower her with gifts. Whisk her off her feet for romantic days out, meals and getaways. One day maybe I will but for now, I make sure I support her in everything she does and I'm thankful that she's happy for me just to love her.
Sausages lamb x