I know what you're thinking and no, this post isn't about this bumbling dad being unable to read. I can read, go me. In fact, I had many great experiences growing up involving reading. I was lucky enough that reading seemingly just clicked with me in the early years of infant school. As someone who wouldn't class themselves as an academic, I always felt comfortable reading out loud to a teacher or the class.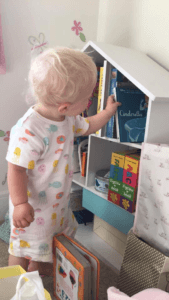 In school it took me a while for things to sink in, a trait which followed me into adult life. Albert Einstein suffered from this and he didn't do too bad, did he. I was often accused of not listening. However, given the opportunity I could read something a few times and it seemed to stick. My wife tells me I'm not an auditory learner.
I'm the guy whose full of useless information that I've once read somewhere. As embarrassing as it is to admit, I can memorise all the celebrity gossip from glancing at the headlines on the magazines in the supermarket. This week Gemma Collins has dropped two dress sizes, Carol Vorderman's face is melting and the girl from the OC is addicted to drugs, apparently.
My love for reading seems to have always been there for as long as I can remember. At home, we were allowed a 5-minute read before bed by our Mam which saw my sister and I race up the stairs. I think, sadly, nowadays this would be a rarity for many children. Mam would also let us choose a comic (AND A BREAKFAST CEREAL – another love of mine!) at the weekly shop. I'd stand for ages reading the print off most of them anyway and was regularly reminded by various shop workers in various stores it wasn't a library. I'd look at them as if to say "I know that" and simply carry on reading. You must try before you buy, right?
I loved some of the books we'd read at school. The Silver Sword was a favourite. Even picking a book to read off the bookshelf was exciting. We'd have story writing tasks set on Wednesdays in Year 6 which instilled a love of storytelling in me and was further inspired in my adult life by greats such as Vince McMahon or Walt Disney.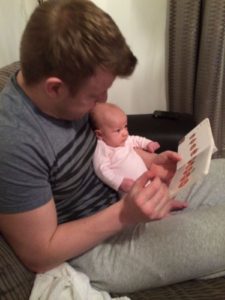 Rachel and I agreed that reading with Ayla is one of the most important things we can do. We felt it's important to nurture and allow her reading experiences and let her imagination wander from a very young age. With my wife being an early year's teacher she already had a stash of hundreds of much loved children's books before Ayla was even a twinkle in my eye, some that I'd read and some I hadn't even heard of. The collection grew as soon as we found out we were expecting her.
From the minute, we brought her home we read to Ayla. She was given two books by her older cousins who live in America, which were their favourites as children. Goodnight Moon and The Hungry Caterpillar became Ayla's regular bedtime stories. Even before she could hold the books she showed interest and would calm to the rhythm of our voices telling the story. I even made slight alterations to 10 Little Fingers to be inclusive as I was born with six fingers!
We spent a lot of time looking at pictures, pointing out characters and random objects on the page. A lot of Ayla's first words came from this 'point and say' game. Ayla began her reading journey just enjoying turning the pages and wondering why her Daddoo kept pretending they were hats.
Books have helped Ayla with everything. From counting to colours to shapes. Even looking at a character's expressions and linking them to the real world such as when someone is tired, sad or happy. It's occurred to me that's it's not important to be the worlds best reader and know lots of long words but to be seen to enjoy reading by your child. Whether it's a magazine, newspaper, novel or an amazing dad blog on your mobile phone. If you are seen to love reading, this will rub off on your little one. We don't always stick to the text, some of our best stories with Ayla come from looking at one picture and using our imagination.
I hope when Ayla gets a little older she will put all of this experience into practice and feel confident around books. Finding time to sit and read can sometimes rank low on the list of priorities when there's work, house stuff, sticking to schedules and all the other distractions but something that's helped us is having books in most room of the house that Ayla can pick up whenever she fancies. Also, working a proper 'story time' into her bedtime routine. Reading has opened the door to so many things in my life and I'm determined that Ayla will have that opportunity too.