Sleep deprivation can play games with even the most balanced Daddoo's mind. Sometimes when lulling my daughter back to sleep in the middle of the night with my eyes playing tricks on me, her face can take on many forms.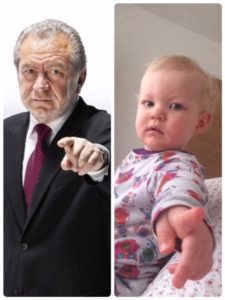 Here I list the famous faces she has morphed into –
1) Del Boy – Mainly when her hair's slicked back in the bath
2) Lord Sugar – See above
3) Diags off TOWIE
4) David Morse, Actor
5) Former Liverpool and Coventry Centre-Back, David Burrows
6) Tom off Love Island 2016
7) Chris Tarrant
Do any of your kids look like celebrities? Leave your comments or pictures below.