We recently reached the milestone of our first year Dad blogging!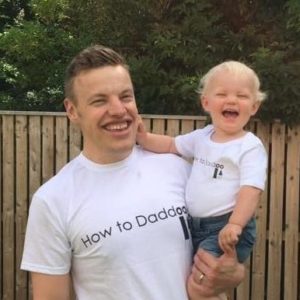 Growing up I always loved writing and marketing. I was fascinated by different campaigns I would see and the innovation it inspired. Through that I heard about a millennial marketer named Zoella, who was killing the vlog game and smashing viewing and book sale records seemingly with ease.
Around the same time a multi-millionaire blogger named Perez Hilton was having daily meltdowns on Celebrity Big Brother. I thought to myself "What's this guy got that I haven't? A good SEO campaign – and the odd meltdown"
After climbing the marketing career ladder more like the beginning of an episode of Casualty.  I began a 'thought shower' of the skills I had, what was feasible with a new baby on the way and bills to pay and what value I could offer the public.
Aware that as a soon-to-be Dad I'd be devoting a lot of time to the kids, I could also barely look after myself, throw in my random set of skills and I had it!
I thought a humorous guide by a bloke who didn't have a Scooby at fatherhood would be a laugh. It would also give our daughter something to look back on, and hopefully laugh at, when she was older.
This last year has exceeded all expectations. I've worked with global brands and had guest posts from great Dads from many walks of life and I'm very thankful to all of you. We topped our debut year off with being shortlisted for a Northern Blog Award (fingers crossed!) which is a massive achievement. Luckily enough the birth of my second child Daniel also coincided with this one year milestone. This has presented new experiences, new challenges and thankfully some new material!
Don't get me wrong, Ayla is a law unto herself and gives me chuckles I could share with you everyday but being a Daddoo of two I feel I'm entering a different chapter in my life and for the blog.
The blog has become a great outlet for me, both creatively and also allowing me to get my thoughts and feelings down on e-paper.
It's genuinely exciting to check e-mails and social media each day. We've had tens of thousands of unique users visit the site worldwide which blows my mind. To receive comments from my 'fans' (Rachel hates me calling readers that) saying reading my parenting fails makes them feel normal and that it is actually having an impact means so much to me.
Right now, we're really enjoying what the blog adds to our lives and being a part of this amazing community. I'll carry on documenting my little victories and epic fails and reminding all parents "You're doing a great job!"