As parents, bedtime stories usually come at the end of a hard day at work or chasing your child around all day. After limping around the house making a supper time snack, fetching pyjamas, brushing teeth and giving any required medicine you and your little one settle down to read the bedtime story. It's only when you're winding down for the day, you become prone to misreadings during storytime.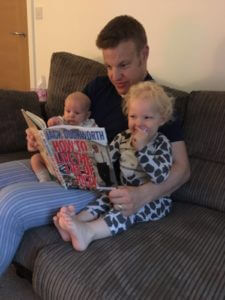 Here are a few I've slurred out –
1) Now Tabby McTat was a home loving cat..*falls asleep*…*wakes up suddenly*…aborigines!
2) Daddy Pig blew up in the armbands for Peppa and George.
3) Peppa tickled the little fish back into the sea.
4) The enchanted objects watched in delete as the beautiful couple danced around the ballroom.
5) The Circus McGurkus! The greatest show on the face of the arse.
Have you made any faux pas when reading to your little ones? Stick them in the comments below!