We'd been on a few UK based caravan holidays as a family before we decided to head abroad to Salou, in Catalonia, Spain in the August of 2016.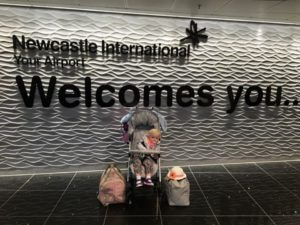 We decided on this as Ayla almost 1 and a 1/2 and the flight was only a few hours so it didn't seem too daunting. This worked out as on the way there she was awake for taking off and landing and slept the middle bit. On the way back she slept the whole journey. Who said travelling with kids was hard?!
I love everything about holidays abroad. It evokes nostalgic memories for me of warmer climates, the sounds, the hustle and bustle of mopeds and the native tongue outside when you awake, wearing a fresh outfit on a warm early evening after a day around the pool and waking up and knowing you can have unlimited bowls of your favorite children's cereal AND a cooked breakfast.
As a child the ropey, cabaret style entertainment seems like a Hollywood production. I'm sure it was the same for our little girl watching the performers at the Golden Port Hotel where we stayed. I must admit even as a grown ass man I still enjoy the incomprehensible theme music ditty the entertainers do choreographed routines to.
Then there's the hotel chain mascots. Ours were Goldy and his missus Goldina (not entirely sure that they were married though). I think they were dinosaurs, possibly Dragons, they had there own merch and had
a habit of surprising the hotel's younger guests over breakfast, dinner or round the pool (IT'S A MAN IN A SUIT!)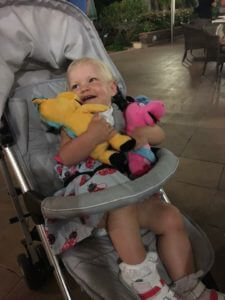 We even took Ayla to a mini disco, which bizarrely ended at 11:30pm. As Ayla was under 4-years-old we had to stay with her, but I wasn't complaining. The disco was centred around Goldy's birthday. We coloured in pictures, made bunting and birthday cards for the lad. The kids made Goldy a cake. The most exciting part was when they turned all the lights off and told us all to hide. Ayla had no idea what was going on but us adults really enjoyed it. Goldy rocked up and we all yelled "SURPRISE!", he was obviously en route to his big birthday night out.
Like playgroups, every hotel abroad must have 'that one kid.' An obnoxious older girl who was pushier with the younger kids, always wanting to be the centre of attention. During one game of musical statues, Ayla didn't understand the concept and would either keep dancing once the music stopped or disrupted the other, statued kids. She managed to get this older girl disqualified and when our girl continued dancing the older girl tried pushing our much younger daughter out of the game. The girl received short, sharp shrift from my onlooking wife. Out of the game and getting wrong off my wife, ooo alley banana!
We went 'splorin' (exploring) one day and stumbled across the beautiful Salou beach. Now think of the best beach you've been on…it's not as good as Salou beach. It was reminiscent of a view on Grand Theft Auto: Vice City. Jet skis, beach umbrellas as far as the eye can see and parasails gliding across the skyline. It was beautiful.

We were really pleased that my in-laws were able to join us on holiday, allowing Ayla to make memories with her Grandparents. They were also a great help. It also allowed us a child free night out on the tiles. What started out as a romantic meal out for two ended up with us getting in at 4am hammered drunk after going drink for drink with a couple of Irish lads we met. We awoke early finding out our child had slept for 14 hours – a personal best. It was going to be a lonnnng day!
At the end of the holiday, and Ayla saying "Hi guys!" to every hotel pickup on the airport transfer, we could look back on some amazing memories with our family. We cannot wait for our next trip.