With Fathers Day only a week away time is fast running out for buying the perfect gift for your Daddoo. Now I've mentioned my questionable gift choices before on the blog. Luckily though, a few brands got in touch in order to help out with this. Here I'll give a couple ideas on potential gifts for your Daddoo this Fathers Day.
This is the How to Daddoo Fathers Day Gift Guide.
Wilkinson Sword Hydro 5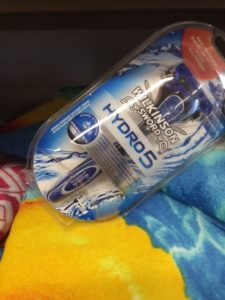 First of all, I've always had a tricky relationship with razors. The first reason being that I've never been able to grow a proper beard. It only tends to grow in certain areas and rather than looking dapper with 9-to-5 stubble I end up looking, well, a bit scruffy. Due to never really being bothered with shaving I have always invested as little money as possible in doing it. Cue one time going for the cheap option I returned home with a bag of razors. Literally a bag! My thrifty plan did me no favours as I ended up with a brutal shaving rash and still missed those tricky areas leaving me, yet again, with a dodgy looking, patchy stubble.
Then I tried the Wilkinson Sword Hydro 5. It's new and improved features include it's hydrating gel reservoir allows 40% less friction than lube strips. It's innovative skin guards control skin flow across it's 5 ultra glide blades. It even has a flip back top which gives a more precise trim, the guys at Wilkinson Sword must know I always miss a bit. Post shave, I felt better, cleaner and more fresh faced than ever before. I even look forward to shaving now. I'd recommend it wholeheartedly and believe Daddoo's worldwide would appreciate a high quality razor for Fathers Day.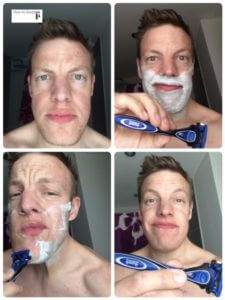 Tiger Pens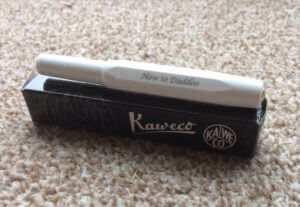 If, like me, you find yourself rattling around your house muttering "There's no pens in this house!" under your breath when needing to make an urgent note you're probably in need of a good, new pen. Tiger Pens is a large online pen shop and they recently launched a new laser engraving service which allows people to personalise a huge range of pens. They are the first company in the UK to offer laser engraving for metal and plastic pens. A personalised pen is a great, Fathers Day gift as it's thoughful, practical and won't break the bank (the laser engraving costs just £6.95!)
I selected the Kaweco Skyline Classic Sport in white which is a ballpoint with a screwtop lid. I didn'r realise how handy this lid would be until my two-year-old tried her usual trick of stealing my pen, on this occasion her plan to draw all over her hands and feet was foiled as she couldn't get the lid off. The pen is based on the 1930's Octagonal design. It is made from a strong lightweight plastic with a white finish & Kaweco Sport in silver writing on the barrel. At the end is the distinctive Kaweco logo in a chrome coloured metal. Naturally I chose to have 'How to Daddoo' engraved on the pen, although it wasn't in branded font I requested.
It's my go-to pen in the house now and always keep in a safe place for those urgent memos.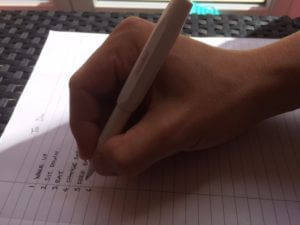 N.B. This is a collaborative post having received product to review from Wilkinson Sword and Tiger Pens.