I recently came across the below photo of our family holiday in Salou. On first inspection, it's a loving moment between a daughter and her dad. When inspecting myself closer (naturally!) you may notice my man boobs floating on the water looking worse than the North Sea oil spill. Proper Daddoo Bod!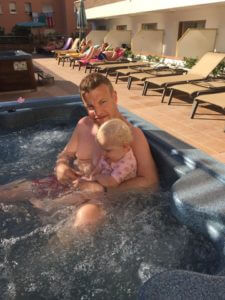 My bi-annual appearance at five-a-side football with the lads should have been warning enough. I usually arrive late, so my usual warm-up of blammering the ball as hard as I can into the boards goes out of the window. No warm up ensures everything will ache for the following week or so afterwards. Literally, muscles I didn't know existed begin aching making the most basic of tasks a struggle and I make sure everyone knows about it with a groan each time I move. We then kick-off, my lifelong love of the beautiful game ensures I enter into a match with all the gusto of Roy Keane. This is short lived.
Marauding around the pitch, covering every blade of artificial grass, I hassle and harass those with the ball (even my own team-mates) and spray the ball around like Jan Kirchhoff (albeit when he's injured). I usually check the time when I begin to get knackered. The time ranges from two minutes to fourteen minutes but I'm consistent in that it never goes over. I usually end the game as the one worryingly wheezing in the corner of the pitch and trying not to vomit.
Then one morning a few months back, after gorging on food and drink over the festive and New Year period, I eased into a jog down the staircase taking two stairs at a time. That was when I noticed it, the dreaded wobble. It was more like a slap as my newly acquired moobs and belly began flailing around slapping my body. It was then I decided I needed to do something about this. I feel like during my adult years and up until becoming a Dad at the age of 30, I've been able to maintain a semi-decent physique. I'm not saying people mistake me for Ronaldo when they see my bare torso but I never seemed to carry flabby bits.
I'm not entirely sure if this recent wobble is due to lack of time or energy to workout (kids'll do that to you), my poor food choices, my age or, probably most likely, a combination of all three excuses. I spoke to my wife about these concerns and she agreed that I'd definitely grown into a Dad-Bod over the last two years, she went on to show me photos of my former self – cheers Rach!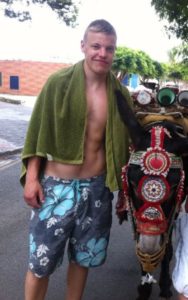 Because my Missus is currently pregnant she hasn't had as much energy to cook from scratch upon returning from work and we've relied upon my cooking – in other words convenience foods thrown into the oven or microwave. I feel like I know where my weaknesses lie so now it's just a case of avoiding them and finding a system that's easy to follow and fits into our busy lifestyle.
My current eating habits could be summarised in my top 5 foods list below;
Sainsbury's Sweetmeals – I can smash a whole packet with one cup of tea.
Crunchy Nut and Golden Grahams (or whatever they call them now) MIXED – As a cereal connoisseur, I am an expert in mixing cereals and this is the 'journey into space' of all cereal combinations. I can't stress the importance in the mixing of these two bad lads for maximum taste. Breakfast is the highlight of my day…and it's all downhill from there, sigh!
Me Mam's Panackelty –  I have a fortunate knack of popping round my Mam's when she's got a slow cooker of home cooked scran on the go. This stuff is incredible.
Fizzy Belts – enough said.
Salted Caramel Tart – Ever tried one of these? My wife brought me one back from an afternoon tea the other week. They're amazing!
As you can see my current sweet tooth diet falls somewhere between obese or imminent heart attack. I need to make a change! With that in mind I'm determined, I'm going to make better choices, move more and maybe even use the homemade gym we have in the garage. In all seriousness, I'd like to prolong my lifespan and be around for our children as long as possible. Our daughter loves fruit and veg and has a very healthy balanced diet, opting for water over any other drink, if she can do it so can I! It would be great to go on brisk walks or jogs with her on a morning to get the creative juices going and strategise on how to tackle the day (as long as she doesn't dawdle behind too much!)
I'll be keeping you up-to-date on my Daddoo Bod journey, with what I've found helpful – products, meals and training regimes. Any tips please leave them in the comments below…