Andrew Fisher is a professional mixed martial artist and MMA coach. He has amassed a 15-8-1 record in organisations such as Bellator and ACB. Out of his TFT (Team Fish Tank) gym he trains all age groups from top prospects to established champions fighting all over the world. As a proud dad of two, we caught up with him to talk all things fatherhood and MMA.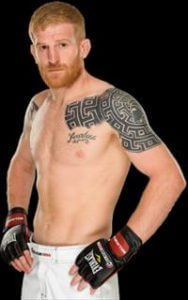 What is the best thing for you about being a Dad?
I've never really thought about my favourite thing of being a dad, but I suppose it's how rewarding it is. There's so many things my kids do that make me so happy so I guess the best thing is the feelings they give you.
What is your funniest moment being a Dad?
You've kind of put me on the spot ha, my little boy is always making me laugh but I can't think of anything specific right now.
What would be your top tip for new Dads or Dads to be?
Top tip for new dads would be that you don't get time back, so make sure your spending plenty quality time with you kids, it's so easy to get sucked into the trap of thinking sitting watching TV in the same room as your kids is spending quality time or buying them a computer game because you think that's what makes them happy when to be honest all you need to do is go outside with them. My kids love nothing more then walking through woods and exploring.
Are there any values you have learnt from martial arts you look to instill in your children as they grow up?
Yeah, I think I learnt all my most valuable life lessons through martial arts/fighting, some of the emotions and heart ache you go through fighting makes normal life seem trivial, and things I find other people spend a lot of time worrying about doesn't seem to bother me at all. My kids attend the kids classes at my gym and they get pocket money at the end of the week if they hit the 3 classes each week and do them with a good attitude, if they don't work hard or have a bad attitude they don't get the money at the end of week, ha.
Has coaching MMA influenced your parenting?
I think coaching MMA has massively influenced me to be honest. When I started coaching young adults I realised that some of these kids really look up to me and it's important how I act and that I do my best to be a good role model, I thought it was very important that i tried my best to have good character. I also am around a lot of different families and I see how good some parents are and I also see how bad some parents are ha. So I try to learn from the bad ones as much as I do the good ones with training and coaching.
How do you balance work and family?
I think I'm quite fortunate with my job because I get to take my kids to school and pick them up which I think it's something a lot of dads miss out on. And my kids come to my gym with me pretty much every night and they love coming because there is a few other kids who come up, so I suppose it's worked out perfectly for me, I'm not sure if I could spend anywhere near as much time with my kids if I had a normal job.
Thanks Andrew for that great insight. If you'd like to follow Andrew you can find him at @andrewfisher9