We're very proud to be a MyBump2Baby favourite blogger within their app.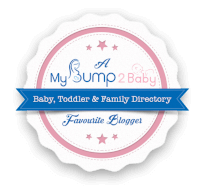 MyBump2Baby is the UK's fastest growing pregnancy to pre-school directory. Somehow my ropey parenting skills have made it onto the directory so you can now check us out over there. We'll be adding new posts daily.
Over 45,000 parents now actively use MyBump2Baby every month to find the best groups, classes and businesses in their local area. Download the app for free over at – MyBump2Baby.
Be sure to share this with your pregnant or parent friends.