On March 1st 2016 at 11:30pm I lost one of the best men I've ever known, my Stepfather, my Dad. He took his last breathes beside me and his life slipped away following a six-month battle with metastatic renal cancer. This is a tribute to the man who taught me how to be a father.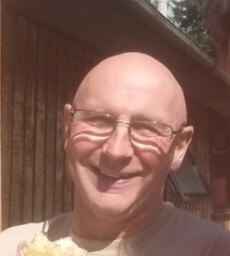 He came into our lives in 1989. I remember glancing out the window to see a mysterious muscular man sporting a wry smile. He came in and while my older sister drew him a picture of a duck on her blackboard I asked him "Are you going to marry my Mam?". Yes, 4-year-old Danny wanted to know this bloke's intentions.
When I struggled with bullies, my Dad instilled confidence in me. He taught me to walk past 'bigger boys' with my chest out and my head held high. We trained together and I learnt that fitness and pride in my appearance bred self-confidence. On one occasion, my Dad paid a visit to my school to 'have a polite word' with a lad who'd been picking on me for several weeks. I asked him about him when I got home, wanting to know every detail, he simply smiled, raised his eyebrow and uttered, "Would I?" In my mind, it remains one of the kindest things anyone's ever done for me.
Now living with my own family, I realise even when I was getting wrong, I was being taught valuable life lessons. He taught me so much. Small, practical things like rinsing your plate before putting it in the dishwasher, adding baked beans to any slow cooked dish is a winner or drying the shower once you've used it (I'm still on the fence about his explanation that the tiles will fall off if not properly dried).  There were also the big things like how to be a good person.
If anyone ever spent time around our house they'd come to know of our playful banter. We would be constantly trying to one up each other. He used to hide cereal, my computer keyboard, leave the house with the Sky card, usually for a punishment. He once unhinged my bedroom door to teach me about respecting house rules and earning privileges. One of my friends likened our relationship to Michael and Junior from My Wife and Kids which still makes me smile.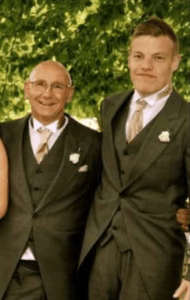 My Dad brought me up on blues music. We played the classics in the house. John Lee Hooker, BB King and Muddy Waters right down to regularly watching local bands like Barking Billy & The Scrapyard Dogs and The Alligators. He even taught himself to play the harmonica, well, it was one tune but it was a great one. My Dad was quite the diverse entertainer, from whipping out his mouth organ to performing a Right Said Fred tribute act, he had all bases covered.
His other love was footy. We had great moments watching football together. When watching our local team, my Dad, developed a superstition. He HAD to say "He'll never score as long as he's got a hole in his arse!" about any Sunderland player in the vain hope they'd prove him wrong. Unfortunately, they generally proved him right!
My Dad's priority was always his family. He had strong family values and principals. He once went on a lad's weekend away and returned after only a day due to missing my Mam and younger sister, who he absolutely adored. He'd take us on regular family days out to Finchale Abbey, Haggerston Castle or Hamsterly Forest among other places. We were also lucky enough go on annual family holidays abroad making great memories in Ibiza, Benidorm and a firm family favourite, Florida.
I am so thankful that during Ayla's first year of life, she spent time with her 'Franda'. He'd be the only one to settle her in a mad house full of people, even falling asleep at his feet on the kitchen floor. She still knows him now, and often gives his picture the nod or a kiss as she passes it in the kitchen. I love the fact that my Dad helped me build Ayla's bedroom furniture which her baby brother will soon inherit. The furniture still stands strong perhaps due to his insistence on using a hammer to put the wooden dowels in.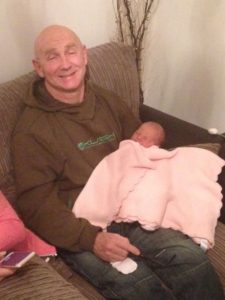 It still doesn't seem real that he's no longer here in person. Not a day goes by that I don't think about him. I miss him most days and on the others, I sort of expect to see him. I regularly reach for my phone to text him about how badly our beloved Sunderland are playing. It's been a year now and it still hasn't quite sunk in.
St Benedict's Hospice were an amazing support to our family through a very difficult time. We are so thankful to all the wonderful staff & volunteers for everything they have done for all of us.
I know my Dad is now at peace and in a better place. Although he isn't here in person, we still feel him around us all the time. My Dad has always been my hero, and always will be. I love you, Dad.
In loving memory of Ivan Ibbitson
8th October 1957 – 1st March 2016
"Let The Good Times Roll"