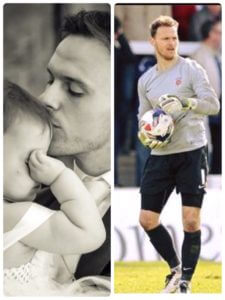 Trevor Carson is a Northern Irish professional footballer who plays for Hartlepool United. We recently caught up with him to tell us about life with his 3-year-old daughter, Katiya.
Hi Trevor, tell us about the best thing for you about being a Dad?
Best thing about being a Dad, would have to be getting to experience that unconditional love for someone. I don't think non-parents can relate to it. We all have love for special ones, parents, partners etc. but when you have your own child it's a totally different kind of love.
What would you say is your funniest moment being a Dad?
I've had loads of funny moments with Katiya, mainly just some of the random stuff that she comes out with. But if I had to pick one in particular it would be last year when we were going swimming, and me being the tight arse that I am when they asked how old she was I said 2 because it would have gotten her in for free, but she was having none of it and piped up with "I'm not 2, I'm 3 Daddy!" Fair to say I was a bit embarrassed and a couple of pounds lighter.
What would be your top tip for any new Dads?
My top tip for new Dads would be as hands on as possible. We all get tired and need a rest but they grow up so fast and the first few years are precious and you got to make the most of them. Make memories from Day 1. Oh yeah, and don't lie about their age if you take them swimming.
A special person in Trevor and Katiya's life is Katiya's Auntie Mel. Melanie suffers from a rare disease, Ehlers-Danlos Syndrome (EDS), a genetic condition that causes her joints to dislocate, which has left her bed bound and in constant pain. Melanie's Mission is to raise £150,000 to fund a life saving surgery in USA. Any donations to the fundraising would be greatly appreciated.
Here's a video of Katiya's thoughts on Melanie's Mission.