Over the past two years I have heard myself say many strange phrases that I never imagined I would be saying as a parent. These are a few more recent ones…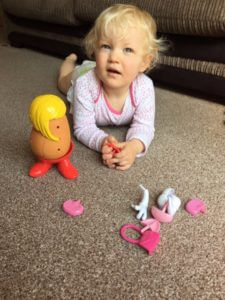 1) Argh, she just kicked me in the heart
2) Keep your hands out of your poo
3) What you can do with Mr Potato Head, when you're not using accessories you can put them up his bum.
4) No, Daddy doesn't want a bogey. Thank you though!
5) Ayla, where's Daddy's nice watch? You haven't been in the bathroom, have you?
6) Ayla! You've just slapped Daddy's biscuit out his mouth!
7) Don't pull Daddy's hair Ayla. I don't want to kiss Iggle Piggle.
8) Yes, of course we can watch Tangled…AGAIN!
9) Rachel, is it okay that she just sneezed a Haribo out of her nose?
10) Oh my god! Rachel, why is her poo green?
11) This piece of the jigsaw goes here….oh, no it doesn't. You're right Ayla.
12) Excuse me, is the number on the side of these nappies for age?
13) No, I didn't. It was Ayla! Ayla, tell Mammy the truth!
14) Please stop whinging. I'll give you some tiny sweeties.
15) Don't flush the toilet yet please, Daddy's still pooing.
16) Don't lick the dog Ayla.
Would love to hear your funny one liners in the comments below!