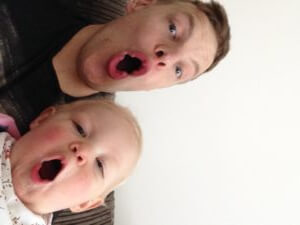 1)

Smile More

– Of the many things I've learnt from my daughter, smiling is one of the most important. Ayla smiles so often that we nicknamed her Ayla Smiler. When you're trying to be 'in a one' because you've ran out of milk, or your nephews saved over your updated FIFA teams, that one little smile, that glint in her eye is totally contagious.
2) Worry Less – I constantly worry about things that could happen and tend to forget that they haven't happened. Ayla, on the other hand, has no worries and treats life like an adventure. This is what I strive for.
3) Be Friendly to All – As an adult (manchild) I used to struggle with making new friends but now I have a small social butterfly flitting around with me, I can now speak to anyone and everyone.
4) Don't Judge – Ayla treats everyone the same. No matter who we come across, all she sees is the person.
5) I simply love being a Father – As I said in my earlier post I never looked forward to being a parent. I now realise it's the best thing that's ever happened to me.
6) To embrace my responsibilities and rise to challenges rather than run to avoid them.
7) Stay Young – Never have I seen anyone drink water from a tippy cup with such enthusiasm.
8) I enjoy parachute games more than children.
Leave a comment below of things you've learnt from your children.