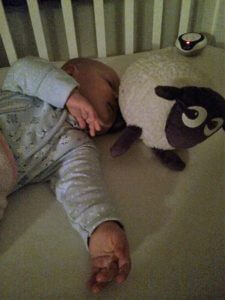 Top tip: When getting your child to sleep ensure that you, as the responsible parent, do not fall asleep first. Not like the time this Daddoo had been trying to put Ayla to bed (for over an hour) and my wife came upstairs to find me sound asleep and Ayla awake and partying.
When we moved Ayla from her moses basket to her cot, a great product we bought to aid Ayla's sleep was Ewan the Dream Sheep (RRP £29.99). Ewan the dream sheep emits soothing sounds at a low base frequency and displays a calming pink warm glow, which when combined, helps settle babies and toddlers into a peaceful sleep. Totally stole that from the packaging.
If we're staying somewhere overnight we're sure to bring Ewan. If Ayla stirs it's usually as simple as pressing one of Ewan's legs, and you're on your way. However you must ensure your press the correct leg. In the early days, Ayla's ultimate favourite was the sound of the rain, this progressed to the sound of the womb. A press of the wrong leg can play some creepy classical music which, if I'm honest, freaked the missus and I out.
I remember one occasion when we were taking Ayla to sleep at her grandparents house. We got all the way there and Rachel froze in her seat… 'We forgot Ewan!' It was like the scene from Home Alone, true panic set in and we decided I'd make the journey back home. The hour long trip to retrieve the sheep was worth it for our piece of mind that Ayla would actually sleep!
As with all aspects of parenting, you're always learning. My wife and I share best practice on little tactics every night, like a tag team of sorts.  One tactic my wife adopted after gaining a very bad back from rocking Ayla to sleep each night was silently lying on the bed with her until she drifted off. This was known in our house as the 'ignore' tactic. The 'ignore' tactic does NOT involve interaction such as:
Ayla: **Growls**
Daddoo: **Growls Back**
Ayla: EYE PATCH!
Daddoo: PIRATE HAT!
Ayla: **Tickle Tickle**
Daddoo: **Giggle Giggle**
Putting a baby to bed can also be likened to a Brazilian Jiu-Jitsu grappling match, with both competitors jockeying for position, using every flailing limb in order to avoid being put to sleep. It's during these times when Ayla and I generally exchange 'Beaker Face'. This is the expression the Muppet constantly has on his face but to us we're literally gurning in battle. The expression hasn't been seen etched so much on my face since a hedonistic lad's holiday waking up still drunk in Magaluf.
My personal tactic during the 3-6 mth period was to cradle Ayla in our spare bedroom while the streetlight shone in the window bringing a sense of calm over our daughter. Nothing compares to the feeling on an evening when her little eyes glaze over, roll back and she's off to the land of nod. With that, I fall in love with this amazing little girl all over again. It gives me an overwhelming sense of pride and self-confidence knowing that Ayla sleeps better when we're at home together as a family and I'm not out working on night-shift.
Other kids in our family have had objects that help them drift off when sleepy – teddies, blankies, taggies. You know the kind of thing that has to be prised from sleeping hands, washed, dried and replaced before dawn. Ayla's 'object of choice' is unfortunately a pinky finger! It doesn't matter whose finger, as long as it has a nail to bend back and a cuticle to pick.
Even once Ayla is asleep, she seemingly has a sixth sense that you're there. She insists on holding said finger all the while still picking at our fingernails or our now non-existent cuticles. We learnt to swap the hand she insists on holding for a toy (that old 'Tombleyboo skittle switcheroo' chesnut). Come to think of it, a fake hand in her cot at night may be a better idea! **scraps blog, writes new business plan**
Once Ayla's down, silently leaving the room becomes the next ominous task. I actually need a quantum leap style transporter to take me out of there with no fuss or noise. When closing her bedroom door, I've even learned to try and replicate the sound of 'waves' on Ayla's sound sleeper app. Who knew the sound of the edge of the door brushing the carpet would be like an alarm to a baby. 'Wake up, wake up, they're trying to escape!'