Join us as we take a nostalgic trip down memory lane of a lifetime watching football. How I came to support Sunderland and how I plan to coax our children into supporting the Lads as well.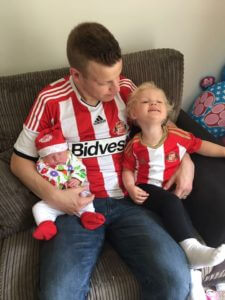 When I was in junior school, everyone had sticker albums.  I was instantly engrossed by the "Got, got, need" culture of the playground. I quickly tried to catch on so asked my Mam to buy me a WWF sticker album (wrestling was my passion at the time). I soon realised there was only me and another lad actually swapping the bloody things. So after spending way too long to get the top half of Yokozuna, I started thinking about moving on to the more popular  Premier League '94 album.
I had little or no time for football though. I set about playing with the other kids in the playground. After picking 'chalk and cheese' with some other kid I'd simply stand in front of my goalkeeper, kicking the ball away whenever it got near me, the Gary Pallister role of sorts. To be honest I found it a bit boring. I got talking to one of the lads in my class. He told me I needed to support a team, to nail my colours to someone's mast and set sail for a life of naughty chants, cups of Bovril and urinating in back alleys.
Although we lived in Sunderland everyone seemed to support Manchester United. They were the dominant and fashionable team at the time. Dispatching of everyone in their way with a style, grace and je ne sais quoi. Nope, not for me. I was curious about other teams and asked the lad about potential teams in Scotland, in Year 3 we hadn't covered Geography yet,  and he foolishly suggested Leeds.
I flicked to the Leeds pages in the sticker album and noticed their manager at the time, Howard Wilkinson, seemed to have long, daft sideburns that looked atrocious so they were out of the picture.
I finally gave in to the peer pressure and reluctantly decided on Man United.
The question then was who was going to be my favourite player. In my wisdom I proclaimed John Fashanu was my favourite Man Utd player. I was mockingly informed Fash actually played for Wimbledon.  At this point my street cred took a blow when I was forced to admit I only liked him because of his Gladiators presenting gig. I began to search for another player faster than you can say 'awooga'.
" Who's their best player then?" I asked the poor Geographer.
" Cantona…" He said with pride in his voice while gazing out of the window into the deep blue sky like all United fans seem to when 'King' Eric is brought up. I flicked through the sticker album to see a proud looking Frenchman, hair slicked back with a confident smile.
" Plus I like Giggs and Gaz likes Kanchelskis so you can be him at playtime" he added. I was sold. My Mam got me a volume one of 'Manchester United On Video' as a surprise and even let me stay up late to watch some matches. Up went a poster of Cantona running with the ball, which covered up part of my Hulk Hogan wallpaper. 
A week or so later my allegiance turned to Aston Villa. I marvelled at the fact Shaun Teale and Kevin Richardson sported blonde moustaches and thus, as a young blonde lad, began a lifelong dream of adorning one myself (which I still have yet to attain).
My support of the Villains was short lived. One night my Dad brought the evening's Sunderland Echo in and plonked in down in front of me. That's when the love affair began. I noticed a  picture of Gordon Armstrong, a local lad who'd made it big with his hometown club, Sunderland AFC. He was decked out in the now classic 'Vaux' kit and flanked by his two children. This was Sunderland, the self-styled Caring Club showing the ultimate respect to any footballer, by giving him his ten-year testimonial match.
I'd always known about Sunderland but their lowly status in the unfashionable First Division didn't put them in the same bracket as Man Utd or Aston Villa. I decided from that day forth my brief flirtations with successful or fashionable teams was over and now I'd make supporting Sunderland my business. After all they were my hometown team. I'd no doubt encounter many ups and downs along the way but I was ready for the challenge.
I started looking at the team and potential favourite players while anticipating the start of next season when we would be fighting, hopefully, for a place in the Premiership.
When season 1994/1995 kicked off it was out with the Premier League sticker album and in with the Football League sticker album. Filled with more no marks than your local job centre, opening a fresh pack of stickers wasn't quite the same as the previous season, but it featured my team and didn't stop me jumping with joy when I got the Sunderland club crest in the classic shiny format.
Steve Agnew was my new favourite player.  I liked him because of his 'horseshoe' haircut which would now be labelled an 'egg in a bun', and the fact he sported no front teeth, which gave him a bit of a gimmick. I even went down to Roker Park to get 'Agnew 8' printed on the back of my snot-green away shirt.
I was ecstatic when my Dad took me to my first game, which saw newly appointed manager Peter Reid take charge.  It was immense. The sheer size of the crowd struck me first, it simply took my breath away.
The game itself was everything you'd want. A tight, gritty affair with Sunderland clinching a last minute winner. It had me hooked.  
The rest as they say is history. As an SAFC fan I've seen us promoted three times, relegated four and cried tears of disappointment (on the very rare occasion joy). As a Dad,  it is now my job to pass down the love of the club to my children, the next generation. I need to indoctrinate them with SAFC based propaganda on how we were the 'Team of All Talents' in the 1890's, dominant in the 1930's and more currently how 'Maja's on fire.'
I look back on dilly dallying about which club to support at school and now realise what it means to be a fan. You stick with the team in good and bad, and we've had our fair share of both. With Sunderland down in League One and under new ownership, the feel good factor is back at the club and there has never been a better time to start supporting Sunderland, right kids!?

The brainwashing should be made easier as the kids' big cousin, Kymani is currently making us all proud representing Sunderland's U11 shadow squad at the Academy of Light.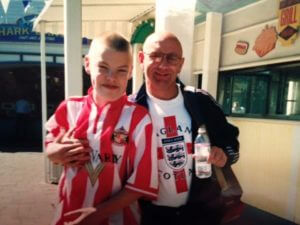 Some of my greatest memories with my Dad revolve around Sunderland. Which leads to my question, is it too soon to take my three-year-old daughter and one-year-old son to a match? Is bribing them with 'YouTube Kids' and copious amounts of sweets acceptable between goals?  Leave your answers in the comments.