The year 2017 is almost at a close and we'll all soon have to get used to writing '2018' when dating things. Here I'll review the year that was with highlights, observations and areas to improve…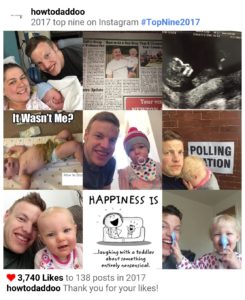 The Boy
Without doubt the highlight of the year has been the introduction of our son, Daniel Ivan William to the family. D-Roc AKA D-Rocafella AKA D-Train AKA DJ has been a great addition to the household. He's a happy-go-lucky little fella happy to sit and observe goings on around him with his wide-eyed gaze reminiscent of Harry the Hunter in Beetlejuice.
His easy going nature has made the disturbed sleep livable as I'd be at the end of my tether if he cried for more than a feed or change. I'm also a keen admirer of the kid's wardrobe. I'd go as far as to say I'm actually jealous of my 6-month-old son's clobber. I'm even jealous of his hair. It's the hair I've always wanted sitting perfectly on his head with no need for product.
He has also shown early signs of super human strength, being able to hold his head weight and turn over from an early stage. Maybe he and Ayla will be the first brother-sister World's Strongest. If not star striker for Sunderland will suffice.
The Girl
Ayla has transitioned from a baby to a little girl. In 2017 our little girl found her big voice. She became a big sister which can't have been easy and I don't think I would have coped so well – like when I became my wife's third favourite in a house **sobs**.
Ayla has learnt to throw a hell of a tantrum which has meant I've had to transition from a jokey, fun Dad to a stricter, firmer Dad. I won't lie I might have got slightly scared and tried to turn it into a joke when our two-year-old girl pushed me into a wall.
Her personality and charisma continues to blossom. Anyone who meets her comments she was born for the stage. She's always singing, dancing or doing comedy bits.
She's such a loving big sister, despite needing a few reminders to be gentle. She regularly used the phrase "Oh, my darling boy is sooo cute. I just want to squish him!" which is sometimes meant a little too literally.
The Wife
My wife has again delivered us our second child and brought our son into the world. She amazes me every day. From the challenges of breast feeding to leaving the house with two kids, she does it all with seamless ease. She spins life's metaphorical plates and still has time to look incredible with her bubbly, infectious nature while she's at it. She even tolerates my irritating, occasionally grouchy arse. What a woman!
I've learnt this year your kids are a result of you and your partners love. You can't just let your relationship happen. You need to nurture your relationship like Mr Miyagi's banzai tree and maintain the reason you got together to begin with.
We've salsa danced in Cuba, got hammered drunk in Salou and sat through Dinner Date marathons on honeymoon in Ilkley Moor.
I often tell my wife I find it easier to breathe when I'm near her. She is my oxygen, my lamb, my wife. I love her just as much now as when we first met.
The Blog
When I first started blogging I simply wanted to be consistent with my posts. Juggling that with family life and work is been a struggle at times but alas it's a labour of love and hopefully a long term source of income for my family.
We were delighted to be nominated for a Northern Blog Award in 2017 and although we came up short it was still a bucket list moment purely to be nominated. I'm looking forward to working hard next year to hit more blogging goals. By far the best thing to happen with the blog this year would be people commenting both on the blog and in person that reading my posts make them feel normal about their own parenting or life which is a huge compliment.
2018?
Looking ahead to 2018, we have planned more as a family with lots of little trips and UK breaks. This year has taught me despite the wife being on maternity leave and us having less money, you make things work.
We made Christmas work when in reality the kids would have probably been happy with a cardboard box. It's not what's in your bank account, time with loved ones is the ultimate currency.
I've got a note in my phone reminding me to be positive, purposeful and plan more. Whether that goes bang like the ol' New Year gym resolution chestnut remains to be seen but I do plan to be positively purposeful about it!
If you've clicked on anything How to Daddoo related throughout 2017, I'd like to thank you massively. It means a lot and is hugely appreciated.
From our family to yours here's wishing you a happy, healthy and prosperous 2018. The best is yet to come!