On the last installment of Sleep Tactics we'd finally cracked controlled crying. When we became pregnant with Daniel we needed the cot again and Ayla needed to move to the big girl bed.
The Big Girl Bed
Now speaking of beds my side is commonly known in our house as 'my ditch' due to the Danny shaped hole I have formed in the memory foam.
In my naivity, I thought you could only get single, double and king sized beds. I had no idea that toddler beds were even a thing. Rachel asked for advice on social media to see how essential these beds were or if we could put Ayla straight in a single. The consensus was a mixed bag, some saying toddler beds were a waste of money. Others said they lasted their child a good few years.
Further research showed that the toddler bed would be more suitable for Ayla. It was closer to the ground, came with a small rail guard around the pillow area to minimise the chance of toppling out. Her current mattress would fit right on there and it could slide straight in where the cot had once been. So, no need to re-arrange her whole bedroom, phew!
We saw a good deal for the bed on ASDA Direct and went for it. Rachel built the bed with Ayla and really included her in the whole process. We all celebrated the move with her despite us probably feeling she was growing too quickly.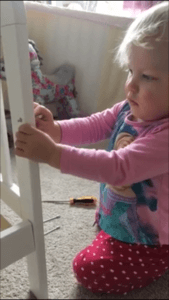 The first night in the bed went great. When we put her down she was a bit unsure and asked "where's the other one gone?" about her cot and kept stroking the side. She did though go straight to sleep and woke at 5:30AM
The only annoying thing about toddler beds is the lack of bedding you can get in that size. There's nowhere near the same range as what you can get for a child single bed. Up to now she is yet to fall out and the bed's served us well. Although she's pretty tall for her age she still has plenty of room to grow into.
As with most things when one thing ends, another begins. We began our second round of night feeds, getting up to change, feed and get anything Daniel Jr may need. Sigh!
Perhaps due to this, there's been the odd night Ayla has had disturbed sleep because of it. For us the toddler bed has been a great buy.