It started just like any other labour free night. I'd set my alarm to arise for work the next morning. We settled down in bed to watch that nights recording of Love Island. It was during a conversation in which I'd vetoed two names from the final list of three when it happened.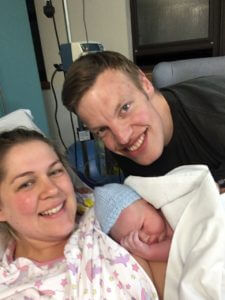 Rachel: I think my waters have just broke.
Me: Can you hold on till the end of Love Island?
Looking back it seems like Rachel must have known. She'd spent about two hours attempting to shave her legs and such. I offered my limited assistance and reminded her that it would be the last of her worries once in labour! She also went into turbo nesting mode in our bedroom, wanting the bed moved along and the bedside table removed so that the babies cot could be brought alongside our bed.
After a quick phone call to the birthing centre, to plan our next move, we called Rachel's parents and they hot footed it over to be home with Ayla. I was only half joking about hanging around for Love Island but I was promptly sent for a quick shower before the in-laws arrived. I collected our bags together and after quickly installing the Isofix and car seat, we set off to the assessment suite.
It was in the room where Rachel was being assessed that I naively thought we'd be delivering our second born child there and then. I thought as we live an hour away from the hospital (without traffic) that there was no way they'd send us home. As it was around 2am, I was beginning to fall drowsy and needed a quick pick-me-up so I piped up.
"Well, I might go get some snacks!" I misjudgingly interjected in between a quite pivotal point in the conversation between the adults. I was swiftly reminded by my wife and the midwife it was very unlikely we'd be in for the night and we were actually sent home to see how contractions progressed. We were booked in for Rachel to be induced at 2pm unless we needed to come back sooner. We were told that due to the waters breaking there was a time frame on getting our baby to us in order to prevent infection. Without being allowed to get 'pick-me-up' snacks and coffee, the drive home somewhat worried my heavily pregnant, contracting wife. She found it necessary to shout in my ear, tap me on the shoulder and remind me repeatedly to "STAY AWAKE!" As I told her I was 'fine' and I pulled onto my drive like a very tired Stig.
We headed up to bed for a few hours rest. Well I got some rest, Rachel on the other hand spent three hours tracking her contractions on a handy app. Unfortunately, they were irregular and although there were a few points when she was about to call the hospital the magic number of three in ten minutes didn't materialise. We headed back to the hospital for our booked in time but the great news was we got the chance to make a trip for snack en route. YES!
Having needed to be induced with Ayla, Rachel was aware that another induction would mean no birthing pool, no birthing centre and her ideal birthing plan was essentially scrapped. Ever the trooper, despite being slightly disappointed Rachel never flickered from her upbeat demeanor. We focused on the fact we'd be meeting our little boy very soon. As with our first experience, the midwives and staff on the induction ward were fantastic. They gave us a chance to progress naturally but after several hours we made the joint decision to have the induction. Rachel was prepped for the drip.
This may sound strange but I know Rachel will agree that the worst part for her, and for me to watch, was getting the cannula into Rachel's 'naughty' veins. It took seven attempts, four highly trained professionals, horror movie style scenes and one supportive husband making pained groaning noises but finally they managed to get one in there. Apparently Rachel has pesky 'jump veins.'
In our room we had a TV and to our delight we were able to catch the latest installment of Love Island on +1. Do you see a theme occurring here?! Poor Rachel couldn't partake in any of the snacks or cuppas on offer so that was my job along with staying silent during contractions and, once they'd passed, handing Rachel a much needed glass of water. I'm proud to say that during this labour I only got wrong once. I may have become too engrossed in Kem asking Amber to be his GF and totally missed my water passing cue. This meant Rachel had to face another contraction with no refreshment. Let's just say Rachel and the midwife were a 'Little Bit Leave It' (Love Island in-joke).
Before the drip even started the contractions were coming thick and fast. Rachel had managed on just gas and air to this point and we were having a laugh with the midwife about funny things people say when in labour. Shortly after this my wife became one of these people.
After requesting an epidural the anesthetist entered the room just as a contraction was ending. Before he even had time to introduce himself Rachel pulled away from the gas and air, threw her hands up and proclaimed "That's my guy!" She was convinced this same young anesthetist had administered her epidural for Ayla two-and-a-half years prior to this. It was like having a conversation with a drunk person. In her haze, she then believed the anesthetist had scanned Ayla's tummy and found raisins?! This led to him being dubbed "The raisins guy". The straight-laced anethetist quickly denied the claims assuring us he "didn't do clinic". Each denial was met with a wink from Rachel to me and the midwife as if to say he was the daft one.
It was like an episode of This is Your Life as next into the room came "The lift man".
He announced himself as he walked through the curtain. "It's just Andrew"
"ANDREEEWWWWWWW!!" Rachel cheered to the senior doctor. "Awwww Andrew, you pressed my button in the lift. Thank you"
Andrew seemed more familiar with gassed-up pregnant women and laughed along. I did check with Andrew that nothing had gone on in said lift. To be fair the bloke did look like the fella who'd pressed the button for us when we first arrived at the hospital so even I started to believe Rachel's fully baked ramblings.
Shortly after, we came to a slightly worrying point where they couldn't find babies heart rate. Once they found it we realised his heart rate had rapidly dropped. Alarms were pulled, doctors were called and Rachel was told "You need to get this baby out now" what followed showed me how incredible my wife is. She remained calm, gritted her teeth and got on with the job. The resilience and determination she has shown on both occasions she has made me a father has been truly inspiring and makes me wonder how I moaned to her for weeks about my ingrown bloody toenails. The time seemed to go fast but I never realised just how fast. From being told to push to having him placed on her chest it took her four minutes to deliver baby boy. What a woman! I even managed to aim for the right place when cutting the cord this time.
When I held my son for the first time, names we could call him fizzed through my mind. He didn't look like a Zach, Arlo or Nate. I instead thought of a boisterous, young lad. Tucker? No, I've got it….Buster. My wife in her drugged up state even agreed.
"I've always loved the name Buster!"
The midwife must have looked at us both in bemusement as even I was a little surprised by the agreement. When Rachel eventually came around and I was still hinting toward naming my first born son after a Viz character she shot the name down and the midwife quickly backed her up.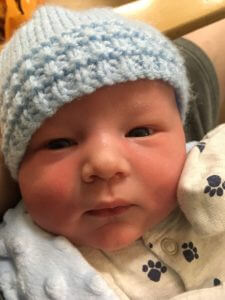 Daniel Ivan William Gray
07.07.2017 @ 01.12am weighing 8lbs 8oz